Gold out brings awareness for pediatric cancer among mustangs
Hang on for a minute...we're trying to find some more stories you might like.
Photo by: Ethan Meyers
Mustangs are driven to support the initiative to find and cure for pediatric cancer shown by gold out football game last Friday. Not only did the football game show its support, but so did the track team, swim team, and more with gold caps and gold bands. Everyone came dressed in gold showing their support and building awareness to this deadly disease.
Students and teachers were able to have an opportunity to help in any way they could to pediatric cancer by buying gold T-shirts. The money that was spent on the gold shirts went directly to Cal's Angels, an organization that funds pediatric cancer research.
"The biggest thing they are doing right now is awareness since you see the pink ribbon and everyone knows it's for breast cancer awareness and with the gold they want people to know what it is and have an understanding that there are kids fighting pediatric cancer," athletic director Daniel DeBruycker said.
The gold shirts not only drew awareness towards pediatric cancer during the football game or in general within Metea, it unified Mustangs.
"It brings a lot people together in the same location and that doesn't happen all the time. You can go weeks and months without being around that many people. And to be able to do something like that is the bigger picture of what we want for Metea," DeBruycker said.
The initiative for pediatric cancer affects Mustangs more than we actually think. English teacher Robert Tesmond's son was affected by pediatric cancer and has been currently cancer free for one year. It was humbling for him to have the support of Metea with the gold shirts.
"When people support this cause it means the world to us; we get super emotional. It's kind of hard to explain how much it means to us, but we are very excited and grateful that so many people care," Tesmond said.
Cal's Angels reached out to Metea's boosters and Mr. Parley, who worked with the boosters, to organize the gold out event with BG stampede two months in advance. Metea also teamed up with Waubonsie to make this initiative possible.
"It took a lot of people to get this done: a lot of the booster representation, a lot of coaches working together, us working with Waubonsie and Waubonsie's boosters were involved. It takes a lot of people to create these things," DeBruycker said.
Everyday forty three children are diagnosed with cancer and 400,000 children undergo treatment each year at the age of six and twelve percent of children don't survive. By building awareness and support in not just in Metea, but everywhere, we can diminish these statistics.
"Since so many people are affected by cancer, it's a good way to show support and bring awareness to the issue," senior Nethra Naresh said.
About the Writer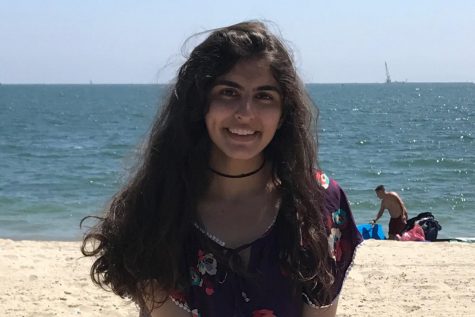 Zyma Lakhani, Profiles Editor and News Reporter
Zyma is a senior at Metea Valley High School and is a creative, thoughtful writer who enjoys a good nap or two here and there. She is a profiles editor and a news writer, and it is her second year on staff. Besides napping and eating, you'll find Zyma occasionally jamming out to some rap...