Eight Chicago Blackhawks games every fan should watch
Hang on for a minute...we're trying to find some more stories you might like.
Photo by: Brittany Coates
October has arrived, which means that a new season of Chicago Blackhawks hockey is finally here. While all 82 games definitely matter, it can be a challenge for most fans to watch every single matchup. Therefore, here are eight intriguing games to keep an eye out for throughout the season.
Season Opener: Thursday, October 5-Pittsburgh Penguins @ Chicago Blackhawks
The fact that this is the Hawks' season opener already makes this an exciting game, but a matchup against the back-to-back defending Stanley Cup champions will provide an extra spark. Although the term "dynasty" has been widely used throughout sports, these two teams arguably come the closest to matching that term in the NHL, having won six of the last nine championships combined since 2009 (three apiece). Both the Hawks' and Penguins have often been compared and it's easy to recognize why: both teams are filled with star-studded names which have led each team to its championship (Jonathan Toews and Patrick Kane, Sidney Crosby and Evgeni Malkin respectively). With this being the first of only two matchups throughout the season, both fanbases will want to tune in to see who gets the early season victory.
Panarin vs. Saad: Saturday, October 7-Columbus Blue Jackets @ Chicago Blackhawks
If a "battle of the dynasties" season opener couldn't be more intriguing, the season's second matchup certainly will. Last June, general manager Stan Bowman shipped off young forward Artemi Panarin to the Blue Jackets. In return, the Hawks received forward Brandon Saad, who returns to Chicago after a two season stint in Columbus. Many Hawks fans felt mixed about this trade, because Panarin was seen as the forward with the better scoring ability. However, Saad is often regarded as the better "two-way" player, and has the experience of leading the Hawks to two championships in 2013 and 2015. Nonetheless, this is the second game of the season for both teams and it will be important to keep an eye on how each player performs in this early season tilt.
Viva Las Vegas: Tuesday, October 24-Chicago Blackhawks @ Vegas Golden Knights
This past offseason, the NHL expanded from 30 to 31 teams for the first time since 2000. While Las Vegas may not seem like the prototypical "hockey city", it is clear that fans are thrilled to see a new team to hit the ice, which consists of seasoned veterans such as James Neal, Jason Garrison and Marc-Andre Fleury, along with a group of youth looking to make some noise. This will be Chicago's first ever trip to play the Knights at T-Mobile Arena, and although there are no former Hawks playing in Sin City, it will definitely be a fun treat for fans to see the new team.
Familiar Faces: Saturday, November 11-Chicago Blackhawks @ Carolina Hurricanes
Due to salary cap limitations, the Hawks have traded away several key players over the past few years. This past offseason, goaltender Scott Darling, forward Marcus Kruger and defenseman Trevor Van Riemsdyk were all traded to the Hurricanes in separate deals, and Hurricanes forwards Teuvo Teravainen and Joakim Nordstrom are both ex-Hawks as well. While Darling spent his three seasons in Chicago as a backup goaltender, all signs are pointing to him receiving the starting job in Carolina because of his tremendous success and experience with the Hawks. The two teams do not face each other until March at the United Center, so it will be intriguing to see how each player's game progresses between the two matchups.
For years, the Nashville Predators have often been seen as one of the league's most skilled and consistent teams; until last year's playoffs when they broke out and lost to the Penguins for the Stanley Cup. To reach the final, the Predators swept the Hawks in the first round, outscoring Chicago by 13-3. Although this will be the third matchup between the two teams as they face each other twice in Chicago in October, this will be the Hawks first trip to the Music City since last April. As the season's one-third mark will be approaching, this game will be crucial for the Hawks to see how they perform against their Central Division rivals and what factors will need to be improved on going forward.
Old Rivals, New Barn: Thursday, January 25-Chicago Blackhawks @ Detroit Red Wings
Coming off a six-game homestand, the Hawks will make a quick trip to Detroit for one game against the Red Wings. For decades, the Hawks-Wings rivalry was seen as one of the most dynamic and thrilling ones in the NHL for players and fans alike, but a recent division realignment has inevitably lost some of that excitement. Regardless, it is still exciting when these two teams meet, and this will be the Hawks first trip to the Little Caesars Arena, the Red Wings new $733M home. This also will be the Hawks final game before heading on the five-day All-Star break.
The Stretch Begins: Sunday, March 18-St. Louis Blues @ Chicago Blackhawks
With less than three weeks remaining in the regular season, this matchup against against the Hawks' competitive division rivals will be a significant test. Both teams will likely be fighting for a playoff spot down the final stretch and it's worth noting that this is the first of three meetings between the two teams in the final three weeks. This one will be especially important to keep an eye on, as a strong victory could lead the Hawks to late season success down the final stretch.
Season Finale: Saturday, April 7-Chicago Blackhawks @ Winnipeg Jets
To end the regular season, the Hawks will travel up north to Winnipeg to face the Jets. Although the Hawks could very well be in a playoff position by this matchup, this game could determine what seed they finish in. The Jets finished sixth out of seven teams in the Central Division last season, but a skillful offense featuring young stars Patrik Laine and Mark Scheifele could help them be more competitive and propel them to their first playoff berth since 2015, meaning that seeding or even a playoff berth could be on the line for them as well too.
About the Writer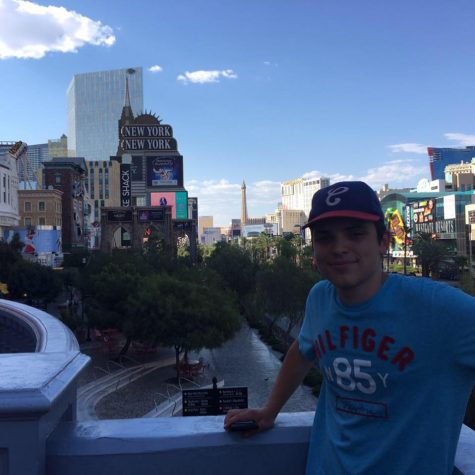 Connor Smith, Spotlight Editor
Connor Smith is a senior and the Stampede's spotlight editor. He is thrilled to return for his second year on staff, as he previously served as sports editor during the 2016-17 school year. Aside from the Stampede, Connor also is a member of Metea's Chamber Choir and Madrigals group, in addition to being a FreshConnect...