Students express mixed opinions on how Veteran's Day should be honored
Hang on for a minute...we're trying to find some more stories you might like.
Since 1938, Veterans Day has been a significant holiday for several Americans. Unlike Memorial Day, the day pays tribute to all veterans who have fought for America, living or dead.
Originated as "Armistice Day" in 1919 to honor the first anniversary of the end of the first World War, Congress passed a resolution in 1926 to observe the holiday on an annual basis. Over the years, the day has become popular for families and friends of veterans to spend time with one another.
"I think it's an important day to honor those who have fought for our country," sophomore Hayley Stachniak said.
Recently, it has been increasingly common for more workplaces and schools to not have the day off. The holiday fell on a Wednesday and Friday during the 2015-16 and 2016-17 school years respectively, which were normal school days for students in the Indian Prairie School District.
According to the U.S. Department of Veteran Affairs, only federal government operated services are required to close on the holiday, meaning that local governments, schools and non-governmental businesses have the power to decide whether they want to remain open or not.
While the holiday does fall on a Saturday this year, several students have expressed frustration regarding the possibility of having to attend school and/or work on the holiday in future years.
"I think it's disgraceful. We have Veterans Day for a reason, it's to spend time with our family members who are veterans and to enjoy the day off. Freedom isn't free," senior Matthew Davis said.
In addition, several students have compared the holiday to Memorial Day and have stated that both deserve an equal importance, to honor not only those who have served but also simply those who continue to protect our country's freedom today.
"I do think that it's worth having off, because it's worth celebrating and if anybody has a relative who has served, they should come together," sophomore Evan Lemberger said.
However, many students believe that having to attend school on the holiday allows for a greater chance to honor veterans by participating in patriotic-related activities. In addition to Metea, other local schools such as Naperville Central and Waubonsie Valley hold an annual assembly featuring guest speakers and patriotic music to celebrate our country and honor those who have made the ultimate sacrifice.
"I think the day off is crucial to some people for what the holiday is for, but I think that it should just be a day to honor people," senior Allie Georgopoulos said.
Despite the differences in student opinion on how the holiday should be celebrated, most students can agree that the day will always be an important one for America, regardless of the significance to them.
"I think it's worth celebrating. If people are willing to put themselves on the line for our country, then they deserve to be honored," Lemberger added.
About the Writer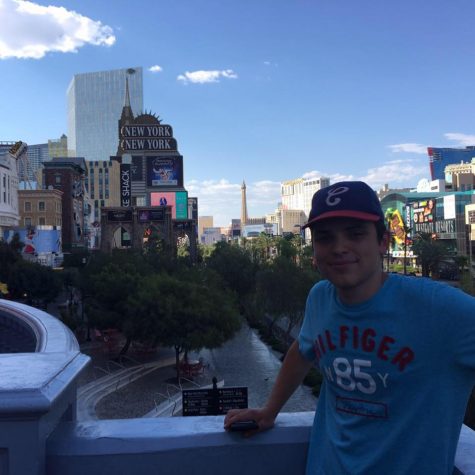 Connor Smith, Spotlight Editor
Connor Smith is a senior and the Stampede's spotlight editor. He is thrilled to return for his second year on staff, as he previously served as sports editor during the 2016-17 school year. Aside from the Stampede, Connor also is a member of Metea's Chamber Choir and Madrigals group, in addition to being a FreshConnect mentor. He loves music, travel, sports and is interested in pursuing journalism as a post-secondary goal.