Black Panther Movie Review
Hang on for a minute...we're trying to find some more stories you might like.
"Black Panther" is one of the most universally acclaimed superhero movies of all time and tops $800 million in the box office today and is the second biggest second-weekend-gross of all time between Jurassic World and The Force Awakens. The film largely hits on the racial constructs in today's society and has a long overdue embrace of diversity and representation. Black Panther has something to say that is bigger than the film itself while never failing to step out of the superhero dynamic. Though a truly great piece of cinematic work, it did have some moments where it left me wanting more. However before I continue, I'll include a quick synopsis of the film.
After the recent death of T'Challa's father, he is announced king of Wakanda. After T'Challa, who we later find out is the Black Panther is announced king, he sets out on a mission to capture the stolen vibranium (a powerful fictional metal that appears in Marvel comics and movies) by a villain named Klaue, but another problem arises as his days as king comes to an end as another powerful enemy, Killmonger, challenges him the throne and the powers of the Black Panther. Though his most trusted allies turn his back on him, T'Challa must not only save Wakanda from being revealed as one of the most powerful countries due to its vibranium, but the world as Killmonger wants to send vibranium to violently arm black people against their oppressors.
Firstly, I thought the performances done by each character was excellent and proved to fully develop the role of each character in the film, especially with Michael B. Jordan and his role as the villain. He nicely portrayed how his character's troubled past turned him into the villainous character he is today and the underlying message of racial problems in relation to the plot and his character. The character Okoye and other mighty women warriors of T'Challa also took to my liking due to the strong and inspirational female presence in the film. Along with this, the cinematography was executed well as it brought to life a fictional Wakanda and the technological advancements of it in the film. It truly did justice to the imagination of its viewers. This is evident with the action scenes in the film, particularly with the one where the Black Panther is in a car chase with Klaue. It was a thrilling scene that kept me on the edge of my seat, a feeling could have only been achieved by cinematographer, Rachel Morrison's work.
Despite all the films great qualities it also acquired a few flaws. The fate of villain, Killmonger, could have ended differently then it did towards the end of the film. The character could have been given a second chance in the film to show up in sequels of Black Panther in the future but he is instead killed off. T'Challa, in the end, set out to do what Killmonger wanted to do anyways which was to send vibranium across the world to help the oppressed but in a less violent way, making Killmonger death kind of pointless. The film also seemed a little formulaic where the plotting was predictable. I expected some more plot twists, surprises, and little more action. Thus leaving me wanting more.
Though overall it was an exceptional film and is a turning point in the movie industry and especially in Marvel Studios in the sense that its movies can be bigger than selling its next installment. The film expressed something deeper and more meaningful in an engaging and impressive way as it addressed racial issues, economic disparity, and gender.
About the Writer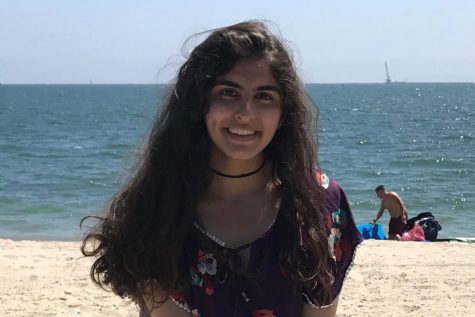 Zyma Lakhani, Profiles Editor and News Reporter
Zyma is a senior at Metea Valley High School and is a creative, thoughtful writer who enjoys a good nap or two here and there. She is a profiles editor and a news writer, and it is her second year on staff. Besides napping and eating, you'll find Zyma occasionally jamming out to some rap or contemporary R&B music. She is also loves painting and highly recommends checking out some of her paintings in the art display case.