Video conference reveals lessons to students about inquiry and purpose
Hang on for a minute...we're trying to find some more stories you might like.
AP Language and Composition students met in the auditorium last Thursday to video conference Sam Rosen, Vice President of Marketing from The Atlantic in order to fully understand the concept of inquiry and it building depth, maturity, and language control. Journalism was also greatly discussed, and how it helps bring new perspectives to life, whether on social media or a different outlet.
"The video conference was about the process of inquiry and its relation to the media and everyday life," junior Apoorva Mahesh said.
Inquiry is any process that has the aim of augmenting knowledge, resolving doubt, or solving a problem, and this is evident when people fight in relationships, as Rosen explained in the open forum. Even though it was an introduction to the next unit for AP3, it helped students realize how common inquiry is and how it is meant to make them realize a lot of things personally.
"I think if done properly, inquiry can help you get to the root of your beliefs and explore others," Mahesh said.
Rosen largely hit on questioning answers he thought he already had, answers about life, spirituality, and various other life topics. This process helped bring guidance back into his life from being a college dropout to going back to school and graduating Cum Laude, showing how it allowed him to discover things about himself he would have never knew if he didn't question. From from this, students learned to apply it to themselves.  
"I learned that questioning everything can actually be useful and can help you learn more about everything," junior Suga Saravanan said.
The video conference did not only begin with the discussion of inquiry, but Rosen also gave the AP3 students a little background story about himself as students listen through one laptop provided to each pair of students.
Rosen used to work at DigitasLBi, the world's largest digitally led advertising agency, where he worked as Vice President and Director of Social Content. In that role, he focused on real-time marketing, social media, and content strategy ideas and initiatives for a wide range of brands and media partners. Before joining DigitasLBi, Rosen founded and led Evolution.is, a boutique agency.
Rosen also explained towards the beginning of the video conference, but elaborated more when students asked questions through a live group chat that asking big questions and inquiry always redefined what they thought at The Atlantic therefore this lead to constant innovation.
The Atlantic's mission statement involves engages its print, online, and live audiences with insights into worlds of politics, business, arts, and culture. The Atlantic is the source of opinion, commentary, and analysis for America's individuals who wish to be challenged and informed.
Among other things that were that discussed in the open forum or elaborated on was journalism and seeking out multiple perspectives, challenge people to think differently about the world, and really say something about current issues from approaching things from a different ladder.
"The video conference was useful because it gave a real experience that students could learn from," Saravanan said.
About the Writer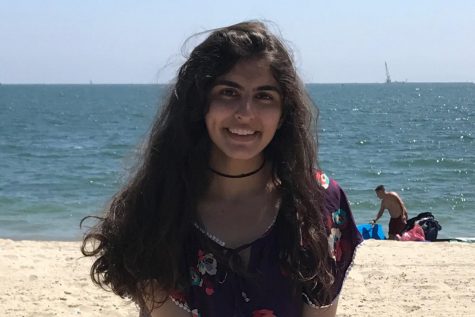 Zyma Lakhani, Profiles Editor and News Reporter
Zyma is a senior at Metea Valley High School and is a creative, thoughtful writer who enjoys a good nap or two here and there. She is a profiles editor and a news writer, and it is her second year on staff. Besides napping and eating, you'll find Zyma occasionally jamming out to some rap...