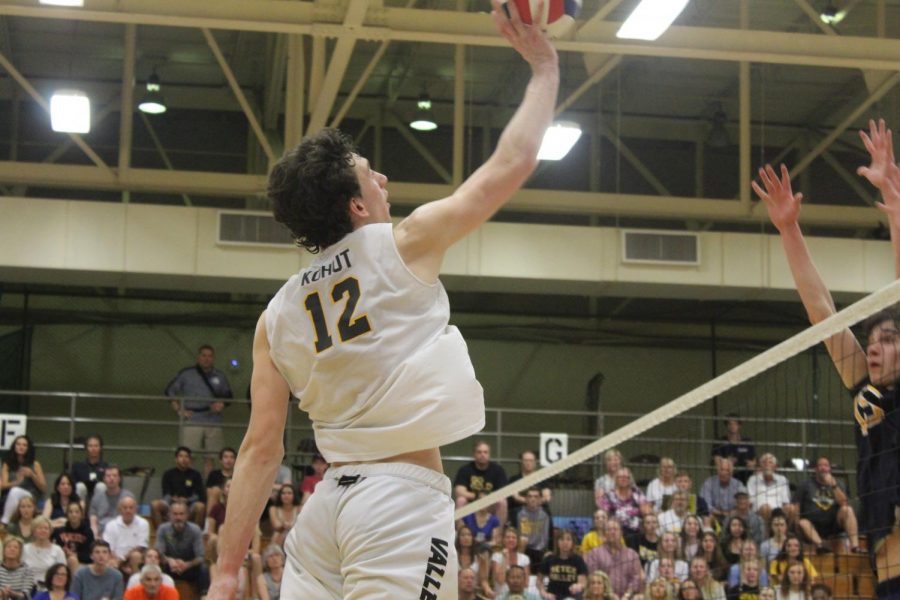 Kellie Foy
he Boys' Volleyball team took on Neuqua Valley in the Sectional Semi-Final last Friday. Neuqua won in three tight sets and advanced to the Sectional final. The game was a testament to the hard work and passion that the Mustangs has displayed all season.
The game was back and forth early. The biggest lead for Neuqua was by three. The Mustangs took a timeout after another serve faulted. It only took four more points for the Mustangs to take their second timeout of the first set, down 21-16. A few lucky bounces for the Wildcats helped them finish the first set 25-18.
The second set was a mirror image of the first. The teams traded points all the way until Metea pulled ahead with a 21-16 lead causing Neuqua to take a timeout. Metea slammed their foot on the accelerator, finishing the set 25-18.
The third set was tight all the way through, not until the end did longer rallies go the way of the Wildcats. In the end, they took the third set, and the game, 25-20.
Head coach John Aister knows everything about the underdog complex. "We were the underdogs in a lot of matches and we won a lot of matches," Aister said after the game. He spoke proudly of the way his team fought all season, and especially on Friday.
In terms of staying focused in such a high profile and intense game, Aister describes it in a simple manner: "you just do your best to stay in the moment, and keep them calm." Calm, cool, and collected described the Mustangs the whole season. Taking multiple top teams in the state to three sets, climbing up to the top 20 in the state, and making program history with a regional title win over a higher seeded team.
The fans brought an amazing level of energy and passion to the game. The old gym at the Illinois Math and Science Academy was rocking. Metea fans brought out undeniable support for the team.  "If you ever want to play in a great environment that was it," Aister said.
Although the team came up short, the season was anything but a mishap. A few bounces change directions or a few serves get two inches higher to get over the net and the game is completely different. The pride shown by the fans was poetic for the Mustangs' season. "We have the greatest fans supporting us… we were super proud" Aister remarked.