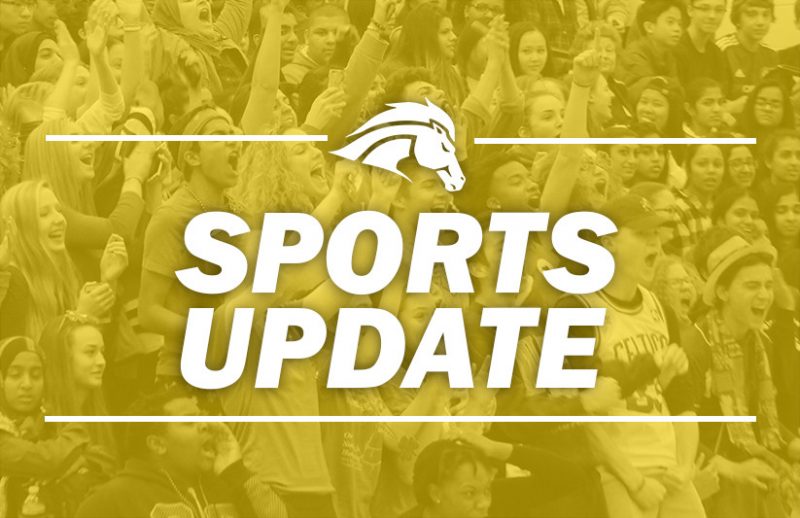 Kainin Blissett
Boys' Cross Country (Leland Pan)
The Boys' Cross Country team placed fifth in the Aurora City Meet on Saturday and Michael Varzino  lead the Mustangs with 21st place for the 3 mile run . Their next meet will be held on Saturday at 9am against Hinsdale Central.
Girls' Cross Country (Nate Burleyson)
The Girls' Cross Country team did very well at the Aurora City Meet this past Saturday. Both the Fresh/Soph and Varsity teams placed first at the event. Senior Carly Cast lead the Mustangs in fifth place, Junior Emily Kohlberg also placed in the top ten at sixth.
Football (Nate Burleyson)
Football lost to Wheaton Warrenville South last Friday with a final score of 26-0. They play Lake Park at 7:30 for their home opener this friday, August 31.
Boys' Golf (Leland Pan)
Last Monday the team started with their first match against WWS at Arrowhead Golf Club. Their final score was 158. Their next match will be at Blackberry Oaks, playing against Oswego High School tomorrow.
Girls' Golf (Nate Burleyson)
Last week the Varsity team played a match against Naperville Central. They lost and Grace Buchta and Maddie Neihardt led the team with 46s. At the Aurora City Tournament, the team placed second, Buchta placed ninth and Neihardt placed second with an 83. The team plays against Naperville North at Orchard Valley tomorrow.
Boys' Soccer (Nate Burleyson)
The Varsity team started their season last Monday with a tie against Jacobs that was called early due to weather. They then hosted Hinsdale Central on Thursday, winning 2-1. They play in the St. Charles East tournament today, Wednesday, and Friday.
Girls' Swim and Dive (Nate Burleyson)
Girls' Swim and Dive practiced this week, and their first meet is this Thursday at 4:30 at Metea.
Girls' Tennis (Leland Pan)
The girls lost to WWS last week with a final score of 3-4. And the girls played a Quad with Benet, Oswego, and Wheaton Academy on Saturday. They play an away match, against Wheaton St. Francis today, and Geneva on Wednesday. Later on in the week the girls will play a home match against Naperville Central on Thursday.
Girls' Volleyball (Nate Burleyson)
The Varsity team played two road matches last week, they beat Oswego East in two sets last Monday. They then fell to Glenbard East on Tuesday. They placed 4th at the Metea/Oswego East Invite this past weekend. They play at Yorkville tomorrow.