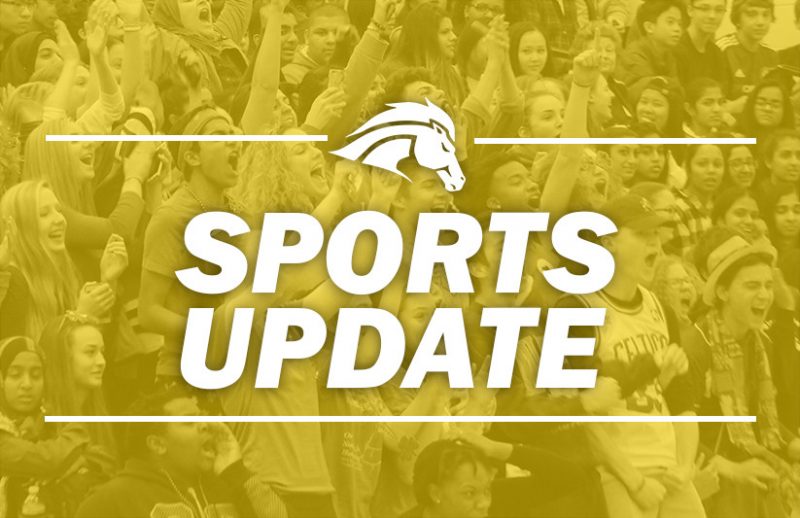 Kainin Blissett
**Disclaimer: Junior Varsity sports are not covered on weekly sports update.
Girls' Basketball (Leland Pan)
The varsity team kicked off the holiday break playing against Joliet Central High School on December 26th. The Mustangs edged out with a total score of 41-32. December 27th the girls took over Lemont High School 45-15. The following day, the girls continued their winning streak with a 35-23 win at Harlem High School. Continuing their extensive wins, the Mustangs headed to play the Oswego East Holiday Tourney 33-30 and crushed Neuqua Valley 51-31. The last game of the winter break was against East Aurora High School ended with a total score of 28-22. The girls play Naperville Central High School at the main gym at 6:00 pm tonight.

Boys' Basketball (Nate Burleyson)
The varsity team competed in the Jack Tosh Holiday Tournament over winter break. In the opening game, they defeated Palatine 67-63. The next day they lost to Lyons Township 73-38. Day 3 they beat Naperville North 56-49. On day 4 they lost to Brother Rice 71-70 in OT. Senior Ethan Helwig was named to the all-tournament team. Last Friday they beat Minooka 57-43. They play Waubonsie this Friday at home.
Hockey (Nate Burleyson)
The Hockey team played Naperville Central in their outdoor winter classic game. The team won 4-1. They played Glenbard losing 4-3, and Wheaton West losing 2-0.
Wrestling (Nate Burleyson)
The wrestling team competed in the Dvorak tournament and hosted a home quad meet. They also traveled to Wisconsin to compete in the Kaukauna Cheesehead Invite. They travel to Waubonsie Valley this Friday.
Boys Swim and Dive (Leland Pan)
The Mustangs swam against Lake Park High School on December 29th. The boys will continue on with another meet at home this Thursday against Naperville North High School at 5 pm. After Thursday, the Mustangs will head to Glenbrook South High School on Saturday for the Titan Relays at 12 pm.
Bowling (Madison McCalley)
Over winter break, the Mustangs had a match on Thursday the 27th and they played Reavis. Then on Friday the 28th, the Mustangs played Oswego East.
Gymnastics (Madison McCalley)
The Mustangs started off winter break with a competition at Neuqua and they competed against Glenbard South. Varsity got a new high score of 132.75. Their next competition is this Thursday at Neuqua.
Cheerleading (Madison McCalley)
Varsity competed at the Buffalo Grove Invite on Sunday the 6th. The Mustangs finished in 5th place. The Mustangs' next meet is Sunday the 13th at the Oak Forest Invite.