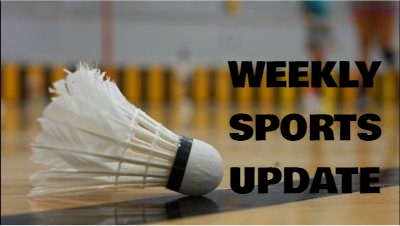 Nate Burleyson
Hockey (Nate Burleyson)
The varsity team beat Leyden on Tuesday 4-1 to advance to the state championship this Friday against Glenbard at the United Center. Tickets are on sale on Chicagoblackhawks.com.
Boys Track and Field (Madison McCalley)
Last week, the Mustangs had the DVC Championships on Friday at North Central College. In the 55 meter dash, sophomore Eden Sweeney placed fourth. Senior Nikola Maric placed second in the 200-meter run. In the 400 meter run, senior Michael Varzino placed first and he also placed first in the 800-meter run. Temi Osobamiro won first place in the triple jump and second place in the long jump. Pryce Giwa-Osage won in the high jump. Their next meet is this Saturday.
Girls Track and Field (Madison McCalley)
This past week, the Mustangs had a meet on Thursday at North Central College. A notable finish was in the 55-meter dash where junior Yanylia Doby finished in third place. Their next meet is this Wednesday at Glenbard North.
Boys' Water Polo (Nate Burleyson)
The varsity team beat Andrew 12-10 last Thursday. The team also lost to Naperville Central and beat Lockport. The team is ranked #17 in the stae by Illpolo.com They play their next game on April 3 against St. Charles North.
Girls Water Polo (Madison McCalley)
To start off the week, the Mustangs had their first home game on Monday and they played against Lockport High School. The Mustangs finished the game with a win 11-6. The Mustangs also had a game on Thursday and they played Andrew High School, winning 8-4. The Mustangs finished with another win. Their next game is this Wednesday and they play Sandburg.
Girls' Badminton (Leland Pan)
The varsity team won 15-0 against Glenbard North last Monday. They also beat Oak Lawn 13-2 on Wednesday. They play against Wheaton North and Wheaton Warrenville South this week.
Girls' Lacrosse (Leland Pan)
The Mustangs had their season opener with a win 17-3 against Schaumburg High School. Sophomore Audra Thompson scored 6 points. The girls followed up with another success with another home victory against Minooka 17-5. They play an away game at Lincoln-Way Central on Wednesday at 6:30 p.m.
Girls' Soccer (Leland Pan)
The varsity team started off their season participating in the Wheaton North Kickoff Classic last week. The Mustangs lost against Benet Academy on Tuesday, Lemont High School on Thursday with a tie, and won against Wheaton North on Saturday. They continue the Wheaton North Classic at Glenbard West High School on Thursday at 6:30 p.m.