Weekly Sports Update 8/26-9/23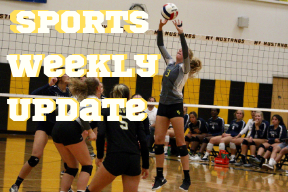 Boys' Golf (Jose Collado)
The Mustangs finished in second place out of 16 teams in the 29th Annual Panther Scramble, which was hosted by Oswego High School. The boys shot a 14 under, 58.
Girls' Golf (Tyler Perry)
The Mustangs played against Naperville Central Golf Course last Tuesday. The girls lost 203-166. The varsity team continued playing at the Aurora City Invite on Wednesday. The Mustangs traveled to Springbrook last night to play against Naperville North. Their next match will be on Thursday at Naperbrook against Neuqua Valley 3:30 pm.
Girls' Cross Country (Alex Bedore)
The girls cross country team participated in the Rosary Aurora City meet. The Mustangs had a great performance, Sophia Sandy showed out in the three-mile run, coming in third place with a time of 18:43.00. Their next meet is at 9 am this Saturday at the Hinsdale Central invite.
Boys' Football (Alex Bedore)
Last Friday the boys' football team played their first game of the season against Wheaton Warrenville South. The Mustangs took a tough loss to the Tigers. Their next game is this Friday at 7:30 pm against Lake Park.
Boys' Soccer (Jose Collado)
The Varsity boys ended the week with two ties, as a Monday night game led to a 1-1 tie against Streamwood High with a goal from Joey Donovan, and a Thursday Night matchup against Jacobs High ended in a 0-0 draw. The boys hope to get their first win on Monday against Maine South.
Girls' Tennis (Leland Pan)
The varsity team played against Wheaton Warrenville South last Tuesday. The girls dominated with a 7-0 win. They continued their week with a Quad with Benet Academy, Wheaton Academy, and Oswego. Their next match will be today against Geneva High School at 4:15 pm. 
Girls' Volleyball (Elena Buscher)
The Girls' Varsity Volleyball team won their first game against Oswego East in three sets on Tuesday. They were also successful against Glenbard East on Wednesday. They finished their week off going 2-3 at the Metea Valley and Oswego East Varsity Tournament this past weekend. The girls' next game is on Friday and Saturday at the Willowbrook Invite.