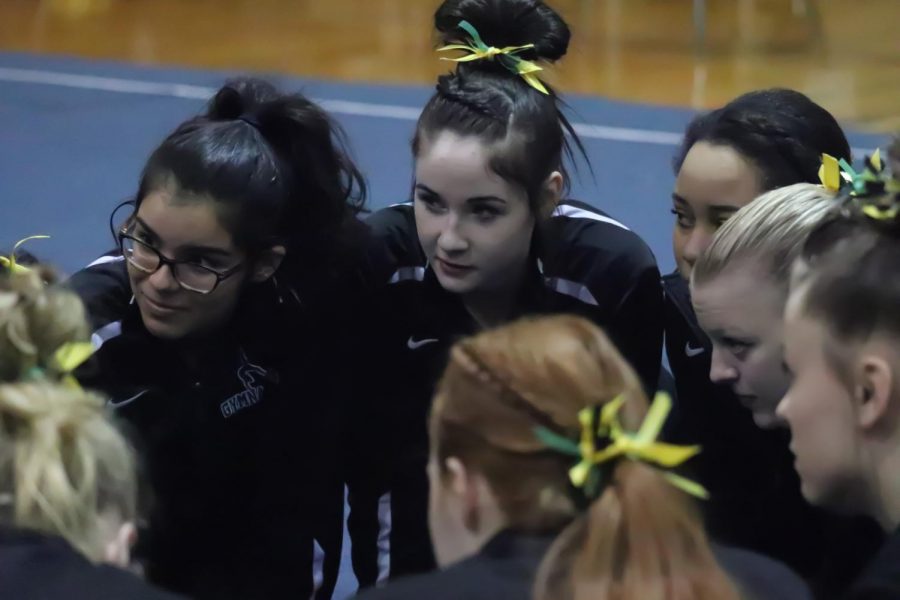 Leland Pan
Not every sport has the Mustangs' next-door neighbor on Eola Road merge into a co-op team. And it is not every day spectators can see a teams' bond stronger than the smell of chalk padded on the grips.
The Warstangs took on the Neuqua Wildcats last night on four events: bars, vault, floor, and beam. The girls to a 7.4 lead, 133.2-125.8
"We [previously] got a lot of deductions off for small things such as leaps," senior Thalia Bowen said. "We could tell that the scores [last night] were getting higher because people are working on it in a practice."
Starting on uneven bars, the Bowen sisters lead the Warstangs with effortless extensions and seamless transitions. The team secured a total of 32.2
Switching to the vault, senior Thalia Bowen was quick off the mark with a layout and the second-highest score of the night, 9.20 The team finished the event with a high score of 34.41 out of four events.
The Warstangs' floor event allowed creativity to flow in each gymnasts' routine. The girls finished with a score of 33.45 senior Destiny Carter sealed an 8.70 with a round off back handspring and a crowd of ecstatic spectators.
Closing out the meet, the girls showcased their beam routines with feelings of anxiousness. The four inches of platform occasionally test precision and composure among gymnasts. Despite the elevated challenge, seniors Thera Bowen and Carter dominate the stakes. From the fluidity of a back walkover to seamless transitions, the girls lead the team with a 33.15
"Gymnastics installed the "don't give up" kind of thing, and our team really bonds and cheer each other on," Bowen said. "Teamwork does help, even though it is an individual sport, we are a team."
Regardless of skill level, the girls value team chemistry. Despite the combination of two schools, the girls continue to form a strong connection with each other.
"I know a lot of different girls from other schools. It's cool I've met a lot of new friends through gymnastics," junior Abby Malartsik said. "It's also cool to include both schools. We get to learn some stuff about what the different environments are like."
The team acknowledges that the chemistry is the secret for a well-balanced team. As athletes understand the importance of the team and concentration aspects of gymnastics, it allows for stronger results.
A prime example is an opportunity for athletes to have a recovery day and an optional-practice day between meets. The flexibility allows gymnasts to distinguish the balance between finding the right time to push themselves and recovering.
"I feel like they appreciate [the flexibility]," Gilmer said. "It also allows them to give us everything that they can while they're in the gym."
They will hope to keep up the success at their local invite on Saturday.