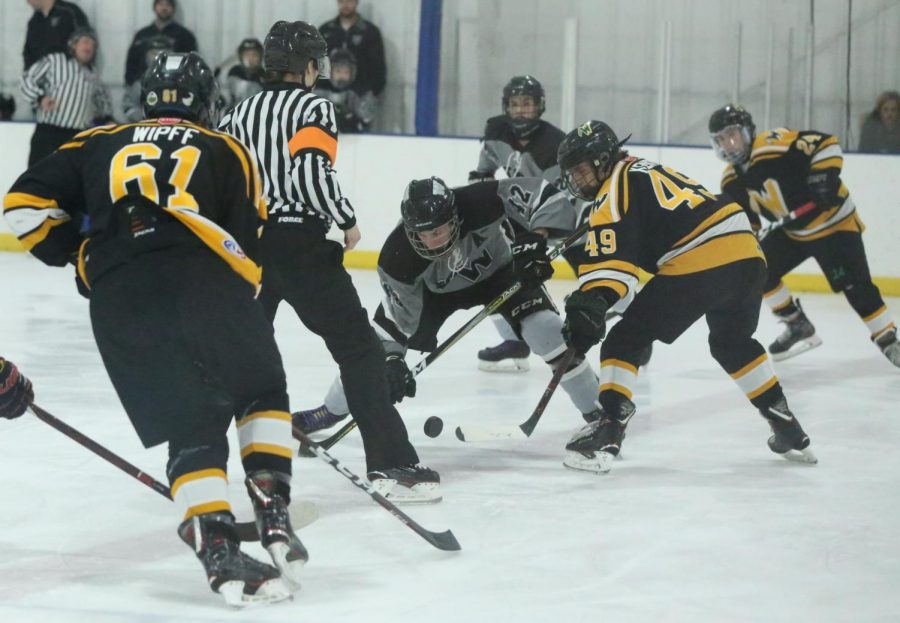 Leland Pan
The Warriors lost a tough game to Wheaton West by a score of 2-5 last night at All Seasons. With the Warriors just above West in the Ill. West Standings, the Warriors hoped to secure the bag last night.
The Yellow and Gold later drew first blood as they scored in the middle of the first period. From then on the net was closed and the Warriors struggled to add points on the scoreboard.
"We got a goal, but I feel like everything from there was downhill. Our effort went downhill and we kind of just stopped playing as a team," junior Arseni Matveyeu said. 
Wheaton was able to get the jump on Metea and scored two straight points before the period wrapped up. There seemed to be a lack of communication among the team.
"We were not communicating as we usually do and that obviously showed," Matveyeu said.
The team sunk in one goal during the second period. This spark in their defense led to a good motivation speech by head coach Jeremy Dombro. The motivation clearly showed as the team improved their hustle within the period.
However, it was not enough to keep Wheaton scoring two more goals within the next period.
The end of the game showed flashes of a miracle. Senior forward Tony Campise slammed the puck into the goal with about five minutes left. It looked as if the team had some hope for a comeback. The Warriors rushed to push the puck into the opposing side and keeping their defense stayed strong.
Despite the lasting effort, no comeback was completed in last night's matchup. 
The Warriors look to redeem themselves against Hinsdale Central tomorrow at 2:50 p.m.