The best part of D&D for most players is the social aspect. Sessions normally run for about two to four hours, but some can be ridiculously long. To come back to the table every week, there needs to be a reason. For almost every player, it is their friends. 
"I love hanging out with my friends," Kondakalla said. "We don't do it often enough, but once a week for three hours, we can just chill and have a good time."
Additionally, D&D is a scheduled activity. For Zeitner, Haddad, and Kenny, who are all busy people, D&D allows them to commit time where they can hang out with their friends. 
"I'm in general a very busy person, so unless I have a stated reason for hanging out with someone, I generally don't," Kenny said. "So this is a good way of tricking myself into hanging out with the people who care about me. These aren't people that I see on a daily basis anymore, so I find it easier to talk to my friends this way when I have a stated purpose to hang out."
Beyond that, weekly games give players a break from their stress. 
"It's like a sectioned off time from my day when I can just take a break from the stress of everything that's happening in the world and the stress of school, and I can just have a good time with people who have similar interests as me," Zeitner said.
Haddad loves the action and involvement of her campaign in addition to the social aspect. 
"I can forget about my day for a little bit and hang out with my friends," Haddad said. "It's almost like watching a really cool movie where you get to choose what happens, like a choose-your-own-adventure, like playing any other video game, but it's with my friends and a lot more fun in that aspect. It's something to do for four hours while we hang out."
Now with COVID-19, campaigns have moved to online tabletops and theatre of the mind, meaning no maps or visual aids. Discord and Roll20 are popular sites to get parties together. 
For some, quarantine has made scheduling easier for groups to play. The school day ends earlier and there are fewer extracurricular activities, so players have a more open schedule.
"Because it was the pandemic, it was a lot easier, so we met up a lot more often, switching from every other week to once a week, maybe even twice a week," Haddad said. "Honestly, it was a lot easier for all of us to get together because we could do things."
In Savage's party, the online experience has helped them improve their quality of play. They play more often and get better at it every time.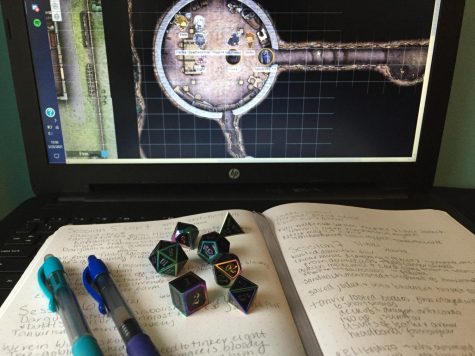 "Before COVID, it seems if we met in person, we had a lot of fun and had food, but now with it online, I almost feel like we are more focused on the mission," Savage said. "We all have our notes and everything. It's become a more regular part of my life since COVID has been happening, and I'm really happy for that."
Savage uses online tabletops to play. She went to school in Alabama previously, so that is where most of her friends are. Now that she is studying at DePaul University, she uses Roll20 to play D&D with her friends online. 
"Especially now with quarantine, it's been a way for big groups of friends to get together," Savage said. "It has let me continue meeting with my friends back home in Alabama. On weekends, it's really nice to be able to see everybody. We definitely don't play the game the whole way through. There are a lot of sidebars and chatting with friends. That's something I look forward to really every week. It's a pick-up for me."
Like Savage's situation, players have been moving to online tabletops due to COVID-19. Because of that, traditional gameplay stopped. The tabletop experience moved to virtual tables. However, D&D still serves to bring friends together. 
"It's definitely given me something that I look forward to every week, and that if I'm feeling down or don't have anything else to look forward to, I just remember, 'oh, I have D&D on Thursday,'" Pritchard said. "It gives me something to look forward to that I can rely upon for social interaction."
D&D has been helpful for these players to get their stress out and feed on social energy, both in-person and online. It helps them stay in contact with friends near and far. While there is a learning curve for the game, the benefits are endless. 
"For someone who wants to play, I'd say go for it," Zeitner said. "Honestly, the times that I had with my old group were some of the best memories I've made with those friends. It really is a good thing to keep you busy while also not putting added stress in your life. It's straight-up fun."