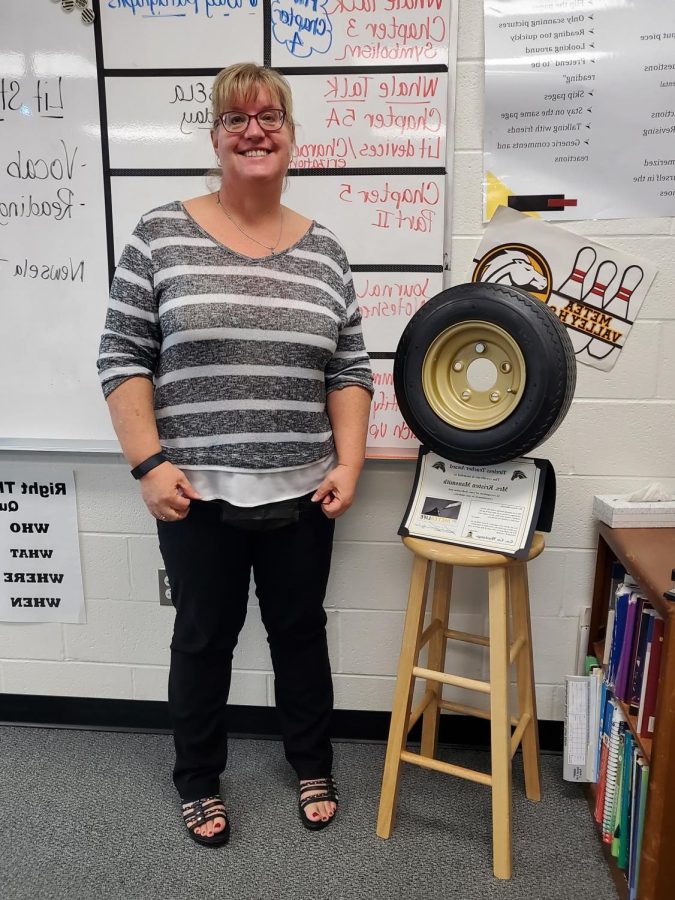 Tanmayi Sharat
The Parent Teacher Student Association (PTSA) Tireless Teacher award is an award where students nominate the teacher that receives it. The PTSA hands out the award each month to a teacher to appreciate the work and help that they have given students and the school. English teacher, as well as the boys' and girls' bowling coach, Kristen Mansmith won the Tireless Teacher award this October. 
"I just knew I wanted to help kids, and from that point forward I knew I wanted to be a teacher," Mansmith said.
Mansmith was not always a high school English teacher. She started her career as an elementary school teacher. After some time, she worked as a middle school teacher and earned her certification as a reading specialist, where she focuses on students who are struggling to read, and helps them get better at reading. Then, she transitioned to a high school teacher at Waubonsie Valley and which she later shifted to Metea Valley. At Metea, Mansmith teaches freshman English and literary strategies. She also works closely with the English department chair to assist in the transition of new students to Metea.
"We get to know each other and build those relationships," Mansmith said.
Mansmith's passion for teaching and interacting with students led her to be an English teacher and a bowling coach. She has coached bowling for twelve seasons, starting from 2010. Bowling is now a sport open to both girls and boys. Mansmith has brought her experience of bowling over from her years of teaching at Waubonsie. She was first hired as the junior varsity coach of the bowling team in the second year of the sport opening at Metea and is now the head coach of the team. 
"We often look at ourselves and say that they have made lifelong friendships," Mansmith said. "Those friendships will never go away." 
Mansmith believes that bowling is an important part of her years as a teacher. By teaching students fellowship and sportsmanship, Mansmith believes that bowling is another way to show athleticism and team spirit. She sees the value of athletics and the effort she has put into building the bowling team and being there for each of her students, and building a team that will stay connected.
"I often tell people that, or I even tell the kids that I feel like every day I am stealing from the district, because when you do what you love every single day, getting paid is just a bonus," Mansmith said.