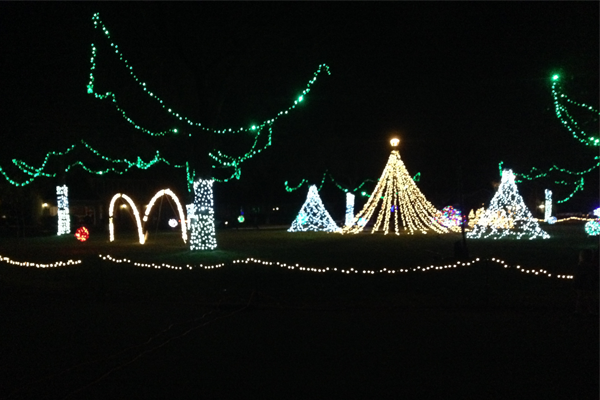 By Kiera Donovan
Online Writer
Photo & video by Kiera Donovan
Freshman Matt Baker kicked off the fourth annual Manchester Light Show Sunday night. The show previewed what is to come in the regular season shows, which will begin the Sunday after Thanksgiving and benefit the Naperville Humane Society.
"This year's show is my favorite so far," Baker said. "There's a lot of new lights and it's for a charity that's important to me."
Baker's past year has consisted of planning and programming this show down to the last light bulb. This year's lights flickered along a "Star Wars" theme.
"This is a family tradition and I love doing it," freshman and creator of the show, Matt Baker, said. "It shows that teenagers are capable of more than just playing video games."
Not only did Baker program the lights to the music, but made sure that the entire setup was a family friendly event. He had Santa, snacks, and light up necklaces.
Baker and his family have made charity an important part of their show. They've supported many different charities, like the Make-A-Wish Foundation and Toys For Tots. At Sunday's preview show, the charity was a Toys For Tots party and attendants of the show were invited to bring donations. For the regular season shows, the charity the family will support will be the Naperville Humane Society.
"Picking a charity was easy," Baker said. "I volunteer and spend a lot of time at the Humane Society."
The light show was created with holiday lights, endless hours of planning, and lots of circuitry work.
"As soon as I take down the display, I start drawing and planning next years," Matt Baker said. "I draw it, figure out how much it costs, then begin programming it on my computer, while building all the props."
The Manchester Light Show will run in Manchester Court in the Brookdale subdivision from the Sunday after Thanksgiving until New Year's Eve. Donations for the Naperville Humane Society are encouraged.