Violinist Carolina Aceves talent shines due to her work ethic
Hang on for a minute...we're trying to find some more stories you might like.
Junior Carolina Aceves is well known for her incredible work ethic and talent in Chamber Orchestra.
What really makes this violinist stand out is her ability to perform greatly without the help of a private teacher, which is something she has done throughout the majority of her musical career.
Her great work ethic and leadership has helped her become first chair in Chamber Orchestra.
What is your background in music?
I started doing music in 5th grade like a lot of students did. Initially, I wanted to do the flute, but it wasn't recommended by my mom because it would give her a headache, so I decided to do the violin instead and now looking back at it I'm really glad I did because it turned out to be something I am passionate about and I think it was for the best. However, since 5th grade i've been hustling because i've never been able to afford a private teacher; it's not something my family is capable of doing financially. A lot of my friends, especially right now since i'm in Chamber Orchestra, have a private lesson teacher; it's not necessary to have a private teacher, but it helps you move through  the levels of orchestra. I know freshman year though in Concert Strings, I had a couple of "free" private lessons because I guess Ms. Sackschewsky saw some potential in me and saw that I really cared about music. It was nice having that help from her. And that was the last time I had any experience like that, and I guess that's what motivates me and drives me even more because of the fact that I don't have that background  and I didn't start playing at a very young age. I rely on my motivation then I do more than anything. I don't feel like I'm at a disadvantage, but just at a different level.
Why and how did you become interested in music and how did this passion develop over time?
Ever since I was little I've been through many phases with music. When I was little, I listened to rock cause that was popular, but after a while I gravitated towards alternative rock and it's just something I listen to today and the many aspects to and genres to it. And I know classical and rock don't go hand in hand, but there is a strong correlation between the two as done in a study and that's because of the drama that goes into both styles of music. I think I've always had that drama in my life, because my uncle was in a mariachi band and he taught himself how to sing and play guitar and taught himself everything in the same sense that I taught myself. And even though there's not a lot of talented people in my family, there's still a lot of love and passion for music. Growing up and going to family parties, when everyone would dance to the music, you could see that love for it and everyone's true self come out and I wanted to carry that love furthermore in my playing. At first, I picked up the violin because I was just bored and it seemed fun, but then something clicked, and I couldn't stop playing from then on.
Did you have a certain inspiration for your music, what made you want to play the violin, and stick to it for such a long time?
I can't say I am inspired by pieces, but I gravitate towards pieces and I seek out opportunities to play pieces because the music that we play in class is written by rich old European men, but with the orchestra clubs they provide at Metea like MVSO, they have a variety of pieces so I usually join it for that, the chance to challenge myself, and play violin more. Also, I found a lot of my motivation and inspiration from my teachers like Ms. Valentin. When she started working with me- she knew I couldn't afford a private teacher, so she helped me find outlets and helped me explore music on a more technical level. She taught me what music really was: it wasn't just notes on a page or a melody in our ears, it was an artistry that we perform as human beings, it's a connection that outreaches our physical nature, it's a spiritual type of thing, and I know that sounds really poetic but it's true! It's more than putting a bow on a string and letting it rip; it's an actual connection you have with your string and yourself. And I think that's what Ms. Valentine tried to do and moving on to Ms. S she helped me a lot. She gives me this vibe: that no matter what background  and lifestyle you're from, you have great potential in music and being a musician. And seeing everyone excel motivates me and inspires me to do better to excel.
How has your environment made you work harder to do well music?
The competition that is placed on us in orchestra (whether intentional or not) provides an environment in which we all try display our best abilities. Whenever there is a seating test, I find myself practicing hours at a time in an effort to get a "good" seat (which is superficial in it of itself since there is no "good" seat in orchestra- we're all in the same group for a reason). For the last concert, I ended up getting first chair. The pressure that came with being concert master inevitably pushed me to work even harder in orchestra. I still try do my best in class. I think this motivation stems to how orchestra is a collaborative effort. When you're put next to your peers on such a close scale, you begin to work with each other in the shared effort of making music.
How did it feel when you got first chair in orchestra and how did you reflect on your time in music?
I was completely surprised. At the time, I was comfortable sitting in the middle of the orchestra, since I am not a big fan of attention. When I came to class and looked at the results of the seating auditions, I was completely taken aback by the fact that I had gotten first chair. It was an honor for me, as Sergio G., who had been first chair up to that point, was a friend of mine and I felt as though I were filling in his shoes. Him, being the first Mexican-American student to be first chair in Chamber Orchestra, completed a milestone that I could look up to. To follow that legacy meant everything to me.
Orchestra director Robin Sackschewsky and fellow violinist Sergio Pena explain her incredible work ethic, talent, passion, and readiness to learn through observing her in class and talking to her.
What are your thoughts on the way she plays?
Sergio Pena: Carolina is definitely one of the stronger violinists I've had the pleasure to work with throughout my time in orchestra. She's passionate, she's driven, and she understands the music.
How would you describe Carolina?
Sergio Pena: If I could describe Carolina in one word, it would be hard-working. She is so attentive during orchestra rehearsals to make sure that she understands what our conductor wants out of us. Also she uses every free moment we have during rehearsal to practice, and make any markings in the music that may help her.
How does she compare to a student who does have a private teacher?
Robin Sackschewsky: Carolina has done a great job of keeping up with the material on her own time. I think she uses her practice time very wisely to be able to play as well as she does.
About the Writer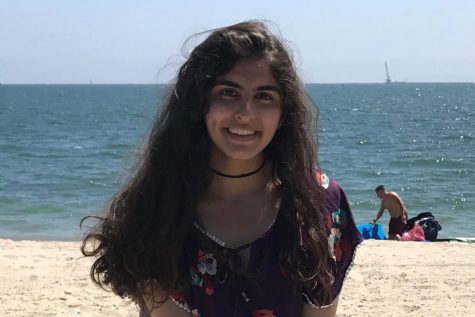 Zyma Lakhani, Profiles Editor and News Reporter
Zyma is a senior at Metea Valley High School and is a creative, thoughtful writer who enjoys a good nap or two here and there. She is a profiles editor...