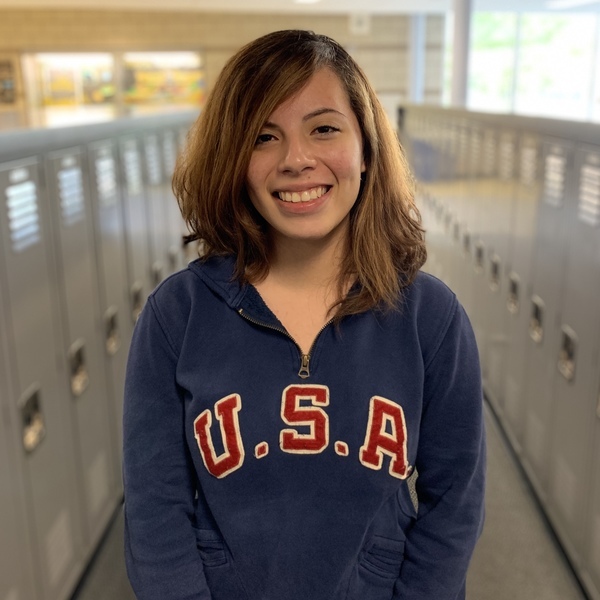 Mirelly Soriano
¿De dónde eres? ¿Has visitado al país de dónde eres originario? ¿Cuáles son las diferencias comparadas a los Estados Unidos?
Mi padre es de España y mi madre es de El Salvador. Yo nací en España y viví allí por tres años y después me moví para El Salvador y viví allá dos años. Creo lo que me gusta de los dos lados es que la gente se trata de ayudar entre ellos y todo el mundo. Son como tu familia aunque solo sean amigos.
 ¿Qué deseas que la gente sepa de la comunidad Hispana y la diversidad que tenemos?
La gente cuando piensan en los Hispanos o latinos siempre piensan en los mexicanos pero me gustaría que la gente supiera que no es así. Todos somos de diferentes partes y tenemos diferentes culturas aunque sí se pueden parecer y si son similares, cada uno tiene algo que lo hace únicos. Por último, quiero que sepan que somos una gente muy de ambiente y que somos muy trabajadores y eso lo puedo decir por todos.
Thank you for adding your voice to the conversation. Please note that all comments are moderated. Metea Media will not publish comments if they contain the following:

▸ Rude or obscene language (i.e. swear words, sexual jokes, violent threats, etc.)
▸ Hate speech (i.e. racism, sexism, homophobia, etc.)
▸ Insults towards a specific student or a teacher
▸ Content that is irrelevant to the article or does not add to the discussion
▸ Submitting comments under somebody else's name

Refer to the student handbook for further specifics on what is considered appropriate.

The Social Media Editor will read and evaluate all comments. Should there be any issues with a particular comment, the Social Media Editor will consult the newspaper adviser and Online Editor-in-Chief.