The Mustangs defeat the Mighty Macs to win their first state championship in any sport
November 18, 2021
After the domination of Barrington on Friday, the Mustangs played the Mighty Macs of Mother McAuley at Illinois State University last Saturday night. 
The first set was back and forth, and then McAuley went on run after run. The Macs' defense was near impeccable, as it was all year, and they took set one 25-15. The McAuley student section was rowdy after winning the first set; however, Metea would slowly silence them with what was to come. 
Junior Kira Hutson and senior Maura Pilafas would get a rally going in the second set with multiple kills. The kills helped the Mustangs pull out to a 15-9 lead. Senior captain and libero Morgan Rank dug up and fended off attacks from Mother McAuley, setting up the kills. 
Rank had 370 digs during the regular season, setting a school record in the process. She accredits her defensive prowess to the teamwork the Mustangs displayed over the course of the season. 
"
A team can really only be successful if they work well together, and I feel like I played a good part in making sure that happened"
— Morgan Rank
The momentum from the kills and clutch defense would carry to a 25-18 Metea win in set two. Perseverance and resilience were mantras that head coach David MacDonald professed to the team throughout the season. 
"We were just resilient. We have done that all this year, so we were just prepared for this situation," MacDonald said after dropping the first set and winning the next one. "We told our girls in-between the first and second set to reset and refocus. That we need to get back to playing our style of volleyball."
Metea's momentum from set two translated to the third set. Hutson and senior captain Regan Holmer had kills during points that tired out the Macs' attacking. A clutch spike from Hutson put the Mustangs up 17-10. A turning point that the Mustangs would take to the final point. Metea was up 24-17, and McAuley defended Pilafas' spike. The Macs' opposite then spiked the ball out of bounds. Metea's student section, an ocean of black and gold, erupted in euphoria. The Mustangs clinched Metea's first state championship in any sport.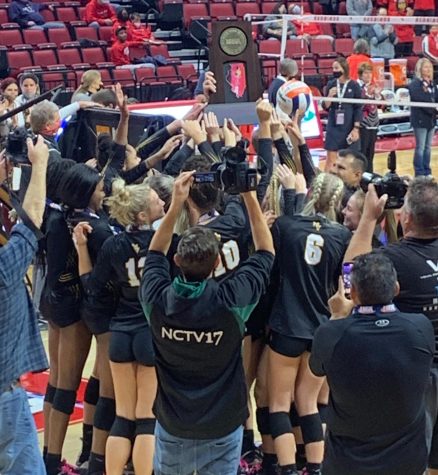 Metea's senior captains, highlighted by Rank, Holmer, and setter Emma Bludgen, lead the team through thick and thin. They bounced back from regular season losses to Andrew and Plainfield North by beating them in the playoffs, en route to a state championship.
"They knew what the expectations were and made sure all the girls were on board," MacDonald said. "They did a wonderful job of holding the girls accountable when needed and making it an enjoyable season for themselves. I am just so proud of them and how they left this program better than they found it."
The Mustangs made more history, clinching the first 4A Illinois High School Association (IHSA) girls' volleyball championship by a public high school since 2010.