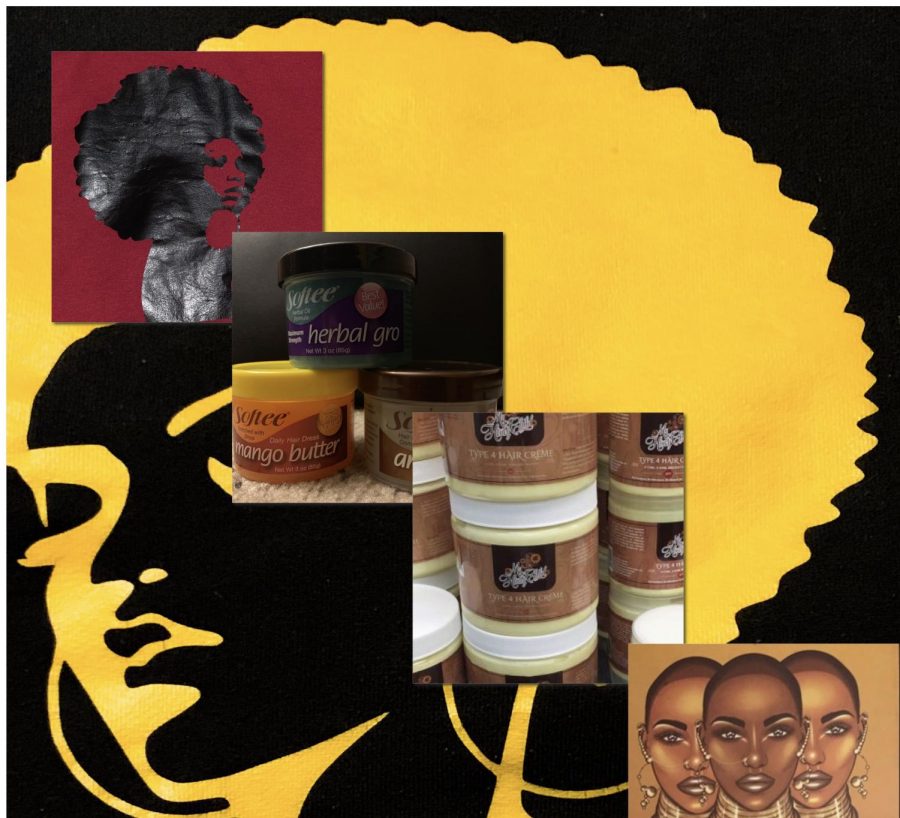 Black-owned cosmetic companies moving into the mainstream
March 12, 2019
With Black History month ending, we wanted to make a list of black brands that you should buy from to celebrate! With that being said, you shouldn't wait until next February to support these brands, but you can support them all year. It's important to buy things for us made by us. This list won't just include big brands, but small ones as well. One of them being very close to here, in fact. Hopefully you find something that peaks your interest.
Noelle's List
Beauty Bakerie: This brand was started by single mom and survivor of breast cancer, Cashmere Nicole. All of her items are bakery themed, with things like flour powder, lip whips, and cake mix foundation. Stay away from the foundation and concealers. They dry quickly and aren't good for people prone to mistakes, so steer away if you're a rookie. The lip whips, stay on very well and only come off with oil based products (or a baby wipe), which is good for people working, or someone like me who just eats all day. I have the shade Take Me For Pomegranate and it didn't budge at all when I went to sushi plus. Cute designs, okay prices, and good durability. Check this brand out.
GOLF WANG: You probably know this one. This is the famous brand created by Tyler, The Creator. This line has shirts, pants, hats, and accessories. Tyler had a runway show in 2016, which featured lots of different models. You can tell he wants his brand to be diverse.  Thanks to depop, I actually have two shirts. They feel pretty normal to me? The fabric seems thicker and sturdier than other fabrics used in shirts though, which is great considering the price for these is a lot. GOLF WANG has also collaborated with Converse to create the line Golf Le Fleur. This line has shoes, socks, and shirts. I haven't been able to get anything yet, but I'd really like to. Overall, the designs are cool and unique, like Tyler. If you don't mind the price go ahead and pick something up.
Luxurious Lathers: You may have seen this one in the Yorktown Mall. Made by Genesis Smith, this is a soap shop similar to lush. They have bath bombs, scrubs, soaps, and more. And they're all very cute too. Designed after various sweets like cakes and cupcakes, it's really hard to take your eyes off of them. Unfortunately, their store isn't in Yorktown anymore, but you can always get them online. I remember being pretty upset when I heard this, because I've been to their store before, it's really fascinating. Their bath bombs are great. Nice smell, doesn't leave residue, and it didn't irritate my skin. I've also tried their scrubs, which are also really good. The label did bleed once water got on it though, wiping it off and leaving this odd trail of dye in the tub, but it easily came off with water. I'm not sure if they've improved packaging or not, but even if they didn't the product is still great. Please check this brand out as they are small and local.
Eden Bodyworks: Created by Jasmine Lawrence, this is another natural body care brand. Besides soaps and lotions, they also have hair products, and kid specific items as well. I'm currently using the coconut hand lotion and I'm loving it. It's moisturizing but doesn't leave a greasy feel like other lotions do, which has always bothered me. The smell is also really really good. You can find these items at stores like Target and Sally's.
SheaMoisture: Founded by Richelieu Dennis, this is a popular brand mostly known for their hair products, which I've used throughout my life. Currently using the masque which I prefer over any other thing I've tried, due to my hair being on the drier side, and very thick as well. There's been controversy with this brand due to an advertisement that compared the struggles of having African American hair to having red hair, and featured more white women than black. SheaMoisture was considered cancelled for a while, but I think that has died over now? Stay away from their African Black Soap. This has been accused of completely screwing up people's skin with burns and acne. If you're going to use it, keep it on your body and away from your face. I'm too scared to use it for acne, but everyone's skin is different, so maybe there's a chance it will work for you. I'd rather be safe than sorry.
The Lip Bar: This brand was created by Melissa Butler. She makes natural lipsticks, lip glosses, and liquid lipsticks. I have the lipstick in the shade Cosmo, and I think the color is really cute. It didn't look weird on my skin, and I feel pretty comfortable in it. Like all lipsticks, make sure your lips are smooth and prepped before you put it on. I look forward to getting more lipsticks from this brand, since I love any makeup lip related. If you're looking for natural lip products, check out her line.
View 1 Comment
Brittany's List
Juvia's Place: This brand is known most for their amazing eyeshadow palettes. Shimmer, matte,and glitter shades with the perfect pigments for people with darker skin. This long wearing shadow comes in multiple different shadows and can stay on all day,which I perfect for people who constantly wear makeup. All of the palettes highlight and embrace darker skin tones and makes shades that blend well and don't leave you washed out. Juvia's Place is a black owned brand, but many gurus that aren't POC have loved the brand and the quality of the product.
African Black Soap: Let's just say this product really depends on the person. You won't know until you try it and that's how most products work. I've seen horribly dry skin , breaking out, and even cases of chemical burns but this product works for me. It helps clear skin and it smells great. The best thing to do is get products for your skin type too. Some soaps are too harsh and that's where bad reviews come in. This product irks fantastic,and they have come out with a great line that include hair products and face scrubs and masks.
As I Am: It may be the fact that I have 4c type hair or maybe even the fact that I never want to grow my hair out long enough to see what my hair actually can do, but this is great for any length. It's creamy but not overwhelming, and it's on the cheaper side of the hair products. With quality comes quantity and As I Am is a very reasonable price considering most hair products can go up too forty dollars.
There is a lot of different brands that seem to be black owned but aren't. Many black products are just represented with a black face. Cantu, eco styler gel, and so many other brands have been bought by the black community for years. We're giving our money to people that don't deal with the 4c hair. Most of us don't have the money to stock up on expensive products every month. There's so many different reasons why cheaper is easier, but there is also a lack of support when we don't buy from owners that know the hair types and know what products we actually need.
Leave a Comment