Return to Learn '20-'21
We look forward to welcoming you to the 2020-21 school year this Thursday, September 3, our first day of school. We hope that you are as excited as we are to connect, collaborate, and learn together this fall. Here are a few important reminders as you prepare to "return to learn" at Metea Valley High School:
Google Classroom is our learning platform – please login to your Google Classroom prior to Thursday in preparation for the first day of school. If you need assistance with your password, please see this document.
Stay Organized with Google Classroom: Here are some short videos on tools in Google Classroom that can help you stay organized and on top of your classes.
Early Hybrid High School Schedule – we will be following the schedule below for live instruction and independent practice. Please note that you will have live instruction every day, including Mondays. Also, you will be receiving a Handbook/planner during materials distribution this week; the planner will be helpful as an organizational tool.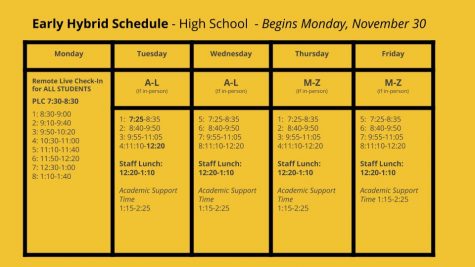 Zoom – we will be using Zoom for live instruction. Teachers will post their class Zoom links within Google Classroom. Please log into Google Classroom and click on the Zoom link to enter into your live class at the beginning of each period.
Class Schedule – you can find your class schedule in Student Vue. The login and password is the same as your Single Sign On (SSO) and Google Classroom password. You are advised to re-check your schedule on the evening of September 2nd as class periods/teachers may change due to balancing for class size and staffing changes.
Metea L.I.F.E. – we look forward to collaboratively living the Metea L.I.F.E. mission in remote learning with you. More explicit information will be shared during the first weeks of school.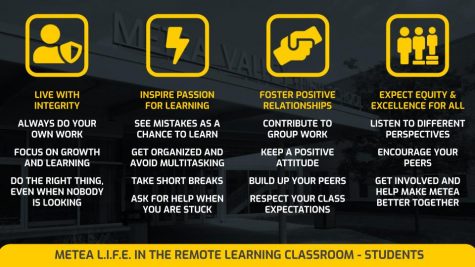 Need help in one of your Classes? Check out the Resource Information for Remote Metea
ACCESS TECH HELP:
Internet Issues? 
Password
Chromebook
Zoom
Technical support is available to you by emailing your question to 

[email protected]
TAKE CARE OF YOUR MENTAL & PHYSICAL HEALTH:
We know that this time can be confusing and unsettling.  In addition to coursework, take this time to focus on their mental and physical well-being, also.

As much as possible, stick to a routine during the day, including maintaining a healthy sleeping and eating schedule.

Stay informed from credible sources and avoid over-saturating with news and updates.

Look for ways to still stay connected socially by phone or video calling; even though this is a time of social distancing, social interactions are important to our mental health and development.

Stay active, such as by running, walking, or biking outside or following along with yoga or cardio workouts on YouTube.

If you are struggling during this time and would benefit from talking to a trusted adult, contact your

guidance counselor or social worker

.  Or you can submit a Warmline Request and someone from the guidance staff will get back to you.
For more information and other tips on how to stay healthy, please refer to this eLearning Resource for Well-Being
Relax. Take a deep breath. The safety and mental well being of the Mustang Community is our number one priority.