Girls' Volleyball honors 100th win with Macdonald
Picture by: Kellie Foy
This past Tuesday night, the girls' volleyball team played at home against conference rival Naperville North. The girls took an outstanding win against the Huskies, winning 2-0. The win not only left the girls' regular conference record 3-0 so far this season, it marked Coach Dave Macdonald's 100th win.
"To be able to accomplish this milestone in our gym in front of our fans, my coaching staff, all the parents and this special group of girls makes this win so special. But what was truly amazing was to have my wife, son, and family there to celebrate with me," Macdonald said.
Many of the upperclassmen on the varsity team have been around for multiple of those win and are proud to be able to play with Coach Macdonald. "I love seeing [the girls] follow their dreams, whether it is playing volleyball in college or pursuing their dream job," Macdonald said.
As the night went on, the girls kept a strong lead against the Naperville North Huskies in both sets. The amazing win was a success defensively and offensively because the girls' outstanding teamwork, effort, and energy throughout the entirety of the game.
"It has been a great experience to be part of such a great program and school. This win is something special that I will remember for a very long time," Macdonald added. The girls will be playing at the Waubonsie Warrior Blast on Friday night and Saturday morning.
Leave a Comment
About the Writer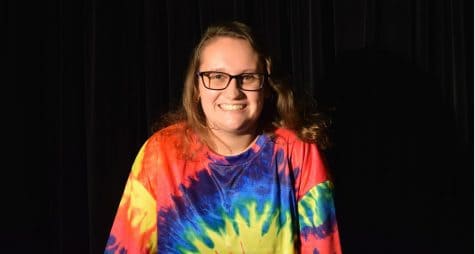 Kellie Foy, Magazine Editor-in-Chief
Kellie is a senior entering her third year of the Stampede. She is the Magazine Editor-in-Chief and has been a sports writer for the past two years. She...