Anderson's Fandom Frenzy inspires and connects local teens to the YA world
Last weekend was significant for YA literature in Aurora. On Sunday, Granger Middle School hosted Anderson Bookshop's annual Fandom Frenzy for students and local readers alike.
43 authors attended the event, along with over 350 students. The event was a free event for students, which encouraged them to get to know their favorite authors personally.
The authors were split up into panels. Throughout the course of the day, each author got a chance to share with every student about their books or backstories. These "speed rounds" were scattered throughout the day with "breakout sessions" as well.
The breakout sessions included about 8 or 9 authors that could answer questions, tell stories, or just talk to the teens.
"The format was set up to be casual and informal. We wanted the teen readers to really get access to the authors as 'real' people," Granger LMC Director Lynne White said.
At the end of the day, authors joined teams of students for a competitive "Trivia Bowl", in which they competed against one another about literature trivia.  Before the event was over, students also had the option to buy a book from the on-site Anderson's pop up shop, and get an autograph from the author.
"The discussions, comments, insights shared from the authors and the fellow book community were awesome. Not only did students want to read books that they had never heard about before the conference, but they also knew the backstory behind the book, the feelings of the author, and the author himself/herself. Both teens and authors raved about the day as it came to a close," White said.
If you want to get a chance to personally meet an author, check the Anderson's Bookshop website for upcoming author visits and events.
View Comments (2)
About the Contributor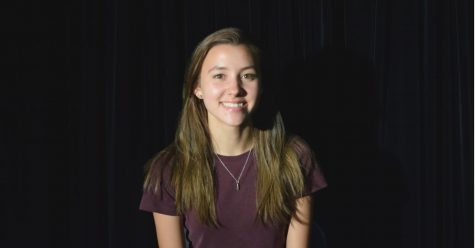 Claudia Grzyb, Spotlight Writer
Claudia Grzyb is a senior at Metea Valley and is currently in her second year of being on staff. Claudia has been on the Metea Valley Speech team, and...