Liam's Tunes: December
December has finally reached us. I know it is a little hard to tell thanks to the lack of snow and the unusually warm weather, but it is in fact here. And we all know what that means. Yes, it is now officially time for the holidays. Decorations are lining the streets, joy is filling the air, and holiday tunes are absolutely inescapable in the most wonderful and soul-crushing kind of way.
Yet, when I think of holiday music, I don't think of Mariah Carey or Michael Buble. I think of the style much of that music is often played in. A style that is both loved and passively ignored by many people: jazz. So, to celebrate the holiday season, and also espouse my love of jazz music, I present to you an all jazz music version of my tunes.
My Favorite Things – John Coltrane
This is about as purely Christmas as this list is going to get. We all know and love the soothing voice of Julie Andrews as she tells us what she finds to be the best things. It's nice, simple, and just lovely. However, as much as I love that version, for me nothing can top an extremely long mostly improvised jazz tune featuring one of my favorite jazz artists.
"My Favorite Things" is a cover of the famed "The Sound of Music" song by the great John Coltrane. This jazz reharmonization turns a light and airy song into an intense and thrilling ride that is just a treat for the ears.  Coltrane absolutely carries this song with his virtuosic saxophone playing that leaves jaws stuck to the floor. It is a masterpiece in every fashion. (Also, as a quick side note, please listen to the album "A Love Supreme" also by Coltrane. It is one of the greatest albums of all time and left me simply astonished.)
Watermelon Man – Herbie Hancock
As much as I like jazz, there is another genre that I quite enjoy: funk. The feel, the bass lines, the sense of groove, the way it makes you want to dance, I just can not get enough funk in my life. If only there was a way to magically splice those to genres together in a wonderfully refreshing fashion. Oh wait, there already is.
"Watermelon Man" by Herbie Hancock was released on Hancock's seminal album "Head Hunters." The song was originally written for his debut "Takin' Off," but it was later reworked into this for "Head Hunters." The song is an absolute funk masterpiece. It begins with a raunchy section filled with wind instruments and slowly adds bass and drums. Things get really good when Hancock himself comes in and hammers down on some chords that are nasty in all the right ways. If you aren't dancing by the end of the song, then you have no soul.
I'll Be Seeing You (Live in Los Angeles) – Julian Lage
Those who know me know that I quite like the guitar. So for me to not include some wonderful jazz guitar would be a tragedy. But who do I include, one of the greats like Wes Montgomery or Joe Pass, or maybe something more modern and fusion, like John McLaughlin or Pat Metheny? In the end, I decided to go with a child prodigy that was teaching at the Stanford Jazz Workshop at 15. It seemed like he had the credentials.
"I'll Be Seeing You" is a song from the great Julian Lage. It was released on his 2016 album "Arclight," but was later recorded for the live album "Live in Los Angeles." This version of the song is absolutely stunning. It begins with a jaw dropping guitar solo that is both technically brilliant and a complete emotional roller coaster. Then it moves into the song's sweet, tender, yet sorrowful melody that just grabs your heart strings and tugs relentlessly away. It is some of the most beautiful guitar work that I have ever heard, and is a must listen for any aspiring guitarist.
Autumn Leaves – Ryo Fukui
This next song is known forward and backward by nearly every jazz musician on the planet. Every single one of them has had to play this one song at some point, from the jazz greats to the Joe Schmos of the jazz world. But out of every version of this song ever played, this one stands as my favorite of all time. Not bad for a person who began teaching themselves piano six years before releasing this album.
"Autumn Leaves" comes from Ryo Fukui's debut album "Scenery." It is a jazz standard that Fukui gives a unique and fresh twist to. It begins with an intense intro that builds and builds until it absolutely explodes into the original melody, which feels free flowing and joyous. I never thought I would ever be into Japanese jazz music, but god is it amazing.
Lingus – Snarky Puppy
Many say that jazz is dead. I can see why they say that. There isn't a Duke Ellington or Miles Davis topping the charts anymore nor is jazz music in the mainstream. It honestly is a real tragedy that jazz ended up like that. At least, it would be, if what those people said had any idea what they were talking about, as jazz is very alive. Those people just haven't heard Snarky Puppy.
"Lingus" is what many, including me, consider to be Snarky Puppy's master work. It's an absolutely epic piece that's filled to the brim with fat bass lines, raunchy horn parts, and awesome solos from guitar, saxophone, and trumpet. And all of that is topped off with a keyboard solo by Cory Henry that is so mind blowing that I'm still reeling from it after first listening to it several months ago. It is a masterpiece of music, and defining statement in the still thriving life of jazz.
So What – Miles Davis
The final song on this playlist needs no introduction. It is the jazziest song of all of jazz history and would be an injustice to leave off of here.
"So What" is the lead track on Miles Davis's "Kind of Blue." The album already has a monster lineup featuring the aforementioned John Coltrane, Julian "Cannonball" Adderley, and Bill Evans. It is a song that is the chillest of chill songs, with a melody bouncing between keys and tonalites, which is in fashion with the modal jazz of this album. This song and the album it came defined nearly all of jazz to come, and in my opinion, maybe one of the most important albums of all time.
About the Writer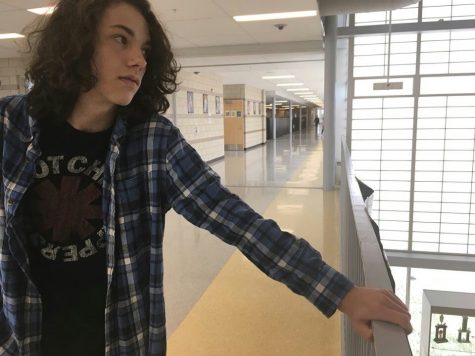 Liam Sweeney, Perspectives Editor












Liam Sweeney is a senior at Metea Valley and the Perspectives Editor for the school magazine. He is a political independent, as...