Returning State athletes on Boys' Swim anticipate a new season of success
The boys' swim and dive team is one of the few teams that makes the IHSA State meet every year. Of the eight athletes who attended the meet last year, five are returning. Junior Sam Kastan and seniors Janssen Gamilla, Benjamin Forbes, Alec Marquardt, and Michael Chan are looking ahead this season. "[Last season], I felt like I hadn't achieved my personal goals, and I'm going to continue working towards them this year," senior Michael Chan said.
Senior Janssen Gamilla has similar thoughts. "I think over the past year all the training I've been doing puts me in a better place for [the 100 butterfly] this year," Gamilla said. Gamilla competed with all three relay teams, as well as individually with a 15th place showing in the 100 Butterfly.
Relays were a big point for the team last year. The 200 Medley Relay and 200 Freestyle Relays finished 10th and 16th at the meet last year, respectively. Three of the four swimmers on both relays are returning to compete this year, and hoping to exceed their past performance. "Our relays are really strong this year, even after losing two seniors from last year," Gamilla said.
For the team to really come through, more individuals will need to make the second day of the State meet: finals. Swimmers who qualify for the state meet at sectionals compete in preliminaries, but only the top 12 swimmers in each event make it to finals to score points for  their team the next day.
Last season, then-senior Connor Mitch made it individually to finals, taking eighth overall in the 100 backstroke. If the team is going to improve their finish, the senior and junior athletes will need to improve their previous times, and more will need to step up towards the end of the season. "We still have a lot of depth and we're still developing all of that [right now], but by the end of the year we should be all set and in a good position," Gamilla said.
Head Coach Mark Jager was pleased with last year's performance and shares the team's optimism for this season. He's particularly excited for what his returning State competitors can do. "It's invaluable to a team to have senior leadership, guys who can set the tone in practice, in competitions, and then when they're actually in the water, lead the way with all their experience, and show our younger guys how it's done," Jager said.
After placing 26th in state as a team last year, the varsity gang is anticipating an improved showing this time around. "With a couple relays that can score, some individuals that score, I think if we could look inside the top 12 at the state meet, that would be a great year," Jager said.
Leave a Comment
About the Contributor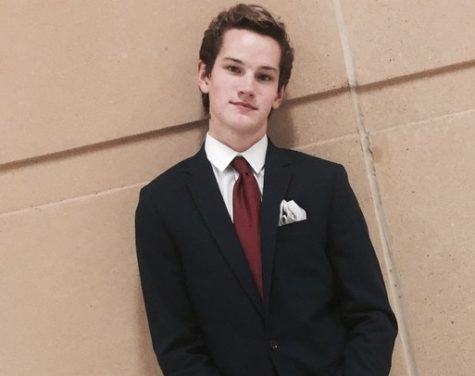 Tyler Burleyson, Sports Reporter
Tyler Burleyson is a senior and a new sports writer for MeteaMedia. His passions include classical music, jazz music, hip hop music, instrumental music,...