Why a re-tool may be necessary for a struggling Chicago Blackhawks team
Hang on for a minute...we're trying to find some more stories you might like.
As a passionate Chicago Blackhawks fan, one word comes to mind without much thought to describe the team's 2017-18 season: mediocre.
A 22-17-6 record may seem respectable with 37 games remaining. However, this team is currently sitting in last place in the Central Division and has no doubt underachieved for the majority of the season.
Coming off a first round playoff exit to the eventual Western Conference champion Nashville Predators, last offseason saw plenty of change around the team. Arguably, most notable was trading forward Artemi Panarin to the Columbus Blue Jackets in exchange for forward Brandon Saad, who returned to the Windy City after previously winning two Stanley Cups with the 'Hawks.
Many fans (including myself) were pleased to see this trade, as Saad was seen as the more "grittier" out of the two and brought experience. This trade hasn't necessarily made the team better thus far though. While points do not mean everything (as Panarin has 38 through 46 games with the 'Jackets), the 'Hawks record of 22-17-6 through 45 games seems much more underwhelming compared to their 27-13-5 record through the same amount of games during the 2016-17 season. Saad may have the more cheaper and expendable contract in the long run, but this trade has definitely not made the team "better".
The 'Hawks also brought back three-time cup champion Patrick Sharp on a one-year free agent deal. In the past few seasons, the team has had a tendency to bring back veterans who have won a championship, such as defensemen Brian Campbell and Johnny Oduya last season in hopes of gaining veteran presence. While it may be nice for fans to see a favorite in Sharp and while he's definitely provided some locker room mentorship, he is clearly past his prime as a player. At the age of 36, he has an unexciting 13 points through 42 games with a minus six plus/minus rating.
There have definitely been some bright spots throughout the season. Forwards Alex DeBrincat and Nick Schmaltz, a rookie and a sophomore, respectively, have both have lived up to expectations. The team's youth movement has been exciting to watch, with forwards Vinnie Hinostroza, David Kampf and the recently acquired Anthony Duclair, in addition to defensemen Jan Rutta and Gustav Forsling all taking small yet significant steps in their growth as players.
However, this may be one of the primary reasons why this team has struggled. Many of these players are still relatively inexperienced and this has not necessarily translated as desired into the win column. Only eight players (including the re-acquired Saad and Sharp) from the 2015 championship winning team actually remain on the current roster.
This past Tuesday, it was reported by the Chicago Tribune that goaltender Corey Crawford may miss the remainder of the season due to vertigo symptoms. Another bright spot of the team has been his play in net, sporting a 16-9-2 record with a very respectable .929 save percentage. As he has sat out, the duo of Anton Forsberg and Jeff Glass has shown potential in net. Both of them lack experience though, with Forsberg being a sophomore and Glass being a rookie. This will not help the 'Hawks in long term, especially if Crawford is indeed done for the year.
The Central Division will likely remain very competitive for the rest of the season. The Predators, St. Louis Blues and Winnipeg Jets look like legitimate Stanley Cup contenders, while the Dallas Stars and Minnesota Wild remain in the hunt. Even the Colorado Avalanche, who sported a league worst 22-56-4 record last season, have exceeded expectations with a young core group of players and are barely ahead of the 'Hawks in the standings.
So, with a majority of the team relatively inexperienced, questions in net and a brutal 15.5% power play percentage all in an uber-competitive division, what is the 'Hawks game plan be  for the remainder of this season? While a complete rebuild may not be necessary, a minor re-tool may be the most realistic idea going forward.
It's worth noting that a "rebuild" and "re-tool" are two very different concepts in the sports business world. If the 'Hawks were to rebuild, major core names would be moved, such as Crawford, Patrick Kane, Jonathan Toews and Duncan Keith. With these players being on costly contracts and still having at least a few seasons in their prime, this is clearly not practical at the moment.
On the other hand, a "re-tool" may not be the worst option for this team. A re-tool would consist of trading valuable yet less important veterans, while letting the team's younger group of players continue to develop.
A few names that could be considered in trade discussions are Sharp and forward Artem Anisimov. Although he has struggled, Sharp still brings leadership to the table and could be a respectable option for a team in need of a veteran bottom-six forward, likely bringing back a late round draft pick or a lower-level prospect. Another option is Anisimov-a solid second line center who is currently on the injured reserve, yet is expected to return within the next few weeks. He could also bring experience, and the trade return would likely be more significant.
One name which may seem like somewhat of a stretch yet could still be considered is defenseman Brent Seabrook. Seabrook has been with the team since 2005 and has won all three of its most recent championships. However, a team may be hesitant to acquire him: he has struggled tremendously this season, which was justified as him being a healthy scratch during last Tuesday's game at Ottawa. Similar to Sharp though, he does bring a veteran presence. He could fetch a solid return from a contender, possibly mid-round draft picks and prospects and maybe even a young current roster player.
I'm not saying that the 'Hawks should figuratively hang up their skates and call it quits: a competitive division makes for an intense playoff race, but also plenty of changes throughout the standings. However, the 'Hawks have not looked like a true contender this season between all their struggles and letting youth develop around an experienced core may be most beneficial heading forward.
The team comes off of its bye week this Saturday, January 20, with a home game against the New York Islanders at 7:30 p.m. at United Center.
About the Writer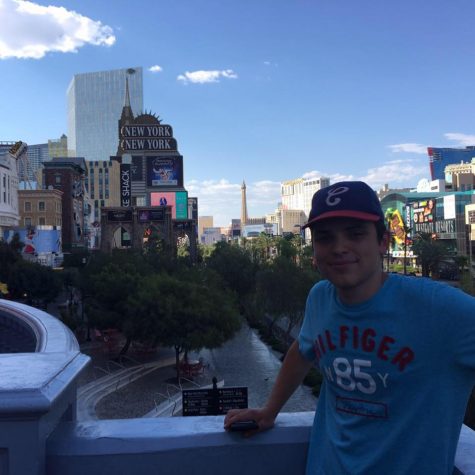 Connor Smith, Spotlight Editor
Connor Smith is a senior and the Stampede's spotlight editor. He is thrilled to return for his second year on staff, as he previously served as sports...