Special Olympics continue to "Pack the Stands" in annual game
A crowd of Metea Mustangs filled the main gym as the Special Olympics basketball program held its annual Pack the Stands event on Wednesday evening. T-shirts were sold for the first half of week and at the game in celebration of the annual tradition.
"[The game] is promoting inclusion with our Special Olympics athletes and their typical functioning peers," head coach and Special Olympics organizer Michael Ackerman said.
The crowd and game included much excitement as the program played against the volunteer staff members. The program is split up into two teams with each team playing one half of the game. The traditional team played the first half as the unified team played during the second half.
Within the first half, the traditional team started the game off with a strong lead against the staff, winning 32-26. As staff started to creep up to the team in the second and third quarter, the traditional team was able to keep a good lead for the rest of the game.
As the game entered the second half, the dance and cheer teams performed at halftime while supporting them from the sidelines for the entirety of the game. It was also Senior Night for the program as the seniors were honored for their hard work and dedication at halftime as well.
Along with the support from the dance and cheer teams, the program had many peers and parents come out to support them in an exciting and intense game. While the student section continued to perform chants with cheer throughout the game, the unified team kept a strong lead in the third quarter.
"Every year, the crowd keeps getting bigger, and this year was definitely, out of the five or six years, we've been running is the biggest crowd I've seen. When you get that kind of community support and everyone rallying behind you, it means the whole world and defines this night as a success," Ackerman added.
Throughout the second half, the game got more intense as the score continued to be close. As the game wrapped up, the unified team and the rest of the Special Olympics basketball program won another game against the volunteer staff, winning 64-52.
Overall, the three teams showed outstanding chemistry as they played the game to the best of their skills and abilities. With the large crowd of support from the Mustang community, this game helped to spread awareness for the Special Olympics program that the school provides.
View Comments (4)
About the Contributor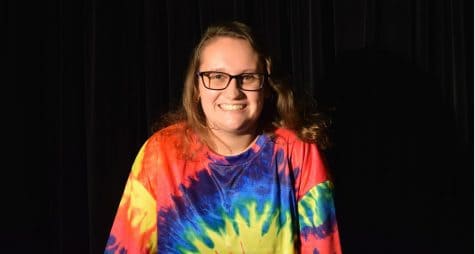 Kellie Foy, Magazine Editor-in-Chief
Kellie is a senior entering her third year of the Stampede. She is the Magazine Editor-in-Chief and has been a sports writer for the past two years. She...