An inside look at the Metea L.I.F.E. event
With all the stresses that high school students have to go through, the Metea L.I.F.E. event gave people the opportunity to feel safe and bond with staff and students last Thursday. The acronym L.I.F.E stands means, live with integrity, inspire a passion for learning, foster positive relationships and expect equity, all things that the event stands for.

The event started when four student-athletes went on a retreat their sophomore year as leaders. When they came back, they decided to create an event for Metea in order to leave a positive stamp on Metea Valley before their graduation. This led to the formation of the Metea L.I.F.E program.

During this event, students who participated were placed into small groups that they would be with throughout the day. At this time, students would be involved with numerous types of activities and games that would hopefully allow them to communicate their thoughts and bond with students. Among these activities included bonding sessions like "have you ever" to an open mic where each person would have a minute to express themselves in whatever way they could. Aside from the bonding activities, the students also had the pleasure of listening to a keynote speaker, Eddie Slowikowski, who gave insight into his life story and gave the group a bunch of activities to participate in.

The main goal of the event was to build unity and an understanding of the Mustang Way and encourages people to live with the L.I.F.E. mantra inside and outside of school. It attempted to allow students to develop relationships with people of all grade levels and build a mutual respect within face to face communication. One of the many things the event emphasized was the importance of human interaction and created a no phone zone environment to strengthen that. The event encouraged expression and helped students at our school truly bond with each other.

"It's a program that's really trying to help foster a positive school environment for students. It's a chance for students to get away from all the stress in their lives and just have fun, talk to people and foster positive relationships,"  junior and student staffer Macy Margherio said

Even with a large amount of attendance, the staff wasn't completely sure if the event was successful, but Metea L.I.F.E has gotten a widely positive response from students. By the time they got to the open mic, it was clear that the students had a changed perspective and that they truly opened up to the people in our school. The staff is proud of the achievements and they hope to recreate that success soon with more events the following year.

"Everyone is dealing with something. No one's life is perfect. So hopefully everybody left that experience with "I see these students in the hallway, and I don't really know they're name, but now I have more people to connect to" and that is something that we really wanted to do, and we did it and it went really well," athletic director and administrative coordinator Dan DeBrucker said.
About the Contributor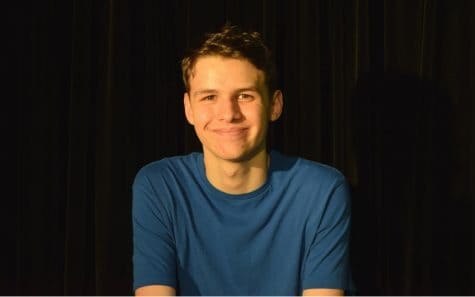 Ben Weiss, Perspectives Editor
Ben Weiss is a senior perspectives editor and writer. It will be his second and last year on The Stampede. Other activities he's involved in include...