Mr. Oldham shares his musical talent with students
Michael Oldham is a composer and pianist who this year took on the task of becoming the pianist for Metea Valley's music department. He replaced Melinda Arnold, who retired this year after being with the program since its inception. While he was intended to be a full time accompanist, he made the decision to leave after this year to focus more on his music career.
How did you grow a  passion for piano?
When I was growing up, I would watch a lot of movies and I just loved the soundtracks to all the movies. So I started listening to soundtracks and that led to classical music and piano. My dad eventually bought me an old upright piano. It was a player too, so it was really cool. Then I was just keep going over to the piano and messing around and writing little ideas down and things. So that's how I got involved with music.
Could you describe your career an accompanist and how it led to Metea?
I actually have been accompanying for a long time. I started way back in middle school and started just playing for one or two of my friends, and then I played through high school for solos and ensembles. Then when I got to college, I played for some of my friends juries and shows and all that kinda stuff. When I graduated I ended up getting a position as choir accompanist. I would freelance at any Plainfield high schools and middle schools and anywhere that needed a piano player I would play. So then I heard this position was open and I took a chance and went for it.
What was it like going out for the job? Were you nervous at all?
It was definitely intimidating because I knew this program was huge and had a ton going for it. Ms. Arnold was incredible so I knew that stepping up to this would be a challenge but I was ready.
How have your experiences with the students been so far?
It's definitely been busy and fun and crazy and it's been awesome to get to know everybody. Students keep coming up to me and talking to me about music and what their passionate about and I think that's probably the best thing about it. When I keep talking about how I love music and I love to play and all that stuff, I get other students coming up and talking to me all like "oh I love this" or "this is really cool" and it really broadened my horizons.
We know that in your spare time you write music. Can you describe your craft?
I write a lot of solo piano stuff, obviously since I play piano. I'm inspired by movie music, storytelling through music, creating imagery and kinda the relationship between all of that. That's the best way that I express myself. Just through the way I write music and how I can engage people and take people out of the mundane and get out of the real world for a little bit. That's always been my goal.
Recently you announced that you would only be teaching for one year. Describe your reasoning?
Going into this I thought it was one position. It wasn't running around doing a lot of freelance stuff and I could be here during the day and then go home and still have all this energy to compose and network and do everything that I would need to do to make a successful career as a composer. But the thing with this program is its very demanding. There are a lot of hours you have to work, which is rewarding at the same time, but juggling two full time things and trying to find where exactly my passion lies is tricky. I'm still at the age where I'm young enough but still getting older so I want to make sure I take my chances and give every passion in my life one hundred percent of my time and attention before I find myself to doing something I definitely enjoy but may not be my first and foremost passion.
What do you hope to do in the future?
In the future I'm just hoping to write more, to get in touch with more ensemble groups and players and people doing interesting and creative things. Not necessarily just musicians but filmmakers, artists, and people creating things that are unique and can tell stories and can connect people.
About the Contributor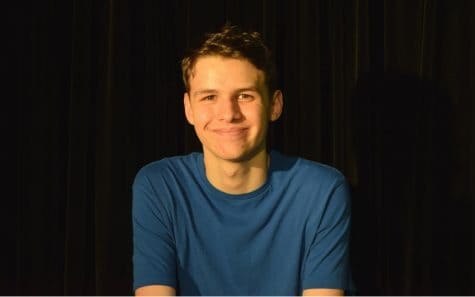 Ben Weiss, Perspectives Editor
Ben Weiss is a senior perspectives editor and writer. It will be his second and last year on The Stampede. Other activities he's involved in include...