Farewell Friday: The Stampede Seniors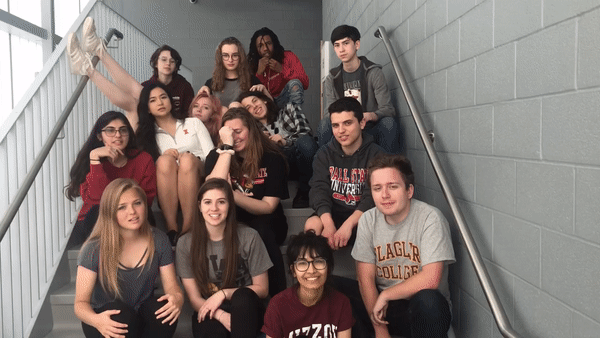 Hang on for a minute...we're trying to find some more stories you might like.
How has Newsmag helped prepared you for life after Metea?
Hailey Hagemaster (Magazine EIC): That's a loaded question. Well, I've been on staff for three years and every year I've been new people and their perspectives and it's definitely opened me up to better teamwork and being able to work with others as well as fixing problems.
Kainin Blissett (Graphics Editor): It's helped me grow as an artist and become more diverse in the type of work I do. It's helped me talk to people more. I've met way more people than I would have if I had not joined this class.
Isabella Gonzales (Graphic Designer): I joined Newsmag this past semester and to be very honest, I didn't want to. I did not want to join Newsmag, Zainie forced me to. But this has been probably my favorite english class that I've ever taken. It's taught me so much about being on a team that I'm not really used to. I've learned so much about graphic design that I seriously want to consider joining a graphics team at a newspaper in college.
Delaney Reed (Photographer): This class has connected me to my community in a way no other class has done. I know how to take into account different perspectives and that every story has different sides to it.
How had Newsmag affected your high school experience?
Brandon Yechout (Perspectives Reporter): Very positively. I always look forward to coming into this class. I like getting to do something that I'd like to do as opposed to something I'm being told to do.
Liam Sweeney (Perspectives Editor): It's been a pretty positive experience. It's kind of like I had a family here and we're all connected. It's really nice to have that in school along with my daily schedule.
Valerie Morris (Graphic Designer): It made it so much better. I joined so late but I love it so much. Mr. Page is the biggest sweet ever. This class made me want to get up in the morning to come to school. I look forward to this class so much. The environment makes me happy.
Zainie Qureshi (Metea Media EIC): It's given me this opportunity to feel as though I'm apart of everything without having to deal with the caveats that actually come along with that. It often helped me end my day better than I started it and I wouldn't have met a lot of my good friends if I hadn't been on for three years. I've learned and laughed so much, being on Newspaper will always be one of my favorite memories of Metea.
What are you going to miss about Metea?
Chesney Wargo (Headlines Editor): I'm going to miss the bonds I formed with other students and teachers, and just being a high school student in general.
Connor Smith (Spotlight Editor): The community and atmosphere. I've been able to meet some great people and make some great friends. The culture that we have here I think is very special to a lot of people.
Ethan Meyers (Photography Editor): Probably the fact that it's free to go here and that you don't have to pay for every class.
Brittany Coates (Photographer): I'm going to miss how easy school is because college is supposed to be really hard. I won't know anyone next year so I'm also going to miss the people that I'm going to be leaving behind that I like and care about.
What are you looking forward to in college?
Thuy-An Ngyuen (Headlines Reporter): In college, I'm really looking forward to meeting such a wide variety of people. Because I'm going to a school in such a big city, I'm really looking forward to that air of globalization and being able to be exposed to so many different things at one time. I just can't wait.
Alex Pressel (Graphic Designer): I'm looking forward to being more independent and living on my own in Chicago and taking classes I'm excited about.
Zyma Lakhani (Profiles Editor): I'm looking forward to having fun and doing well. I'm really excited to get into my major and get into my career. I can't wait to meet all the friends I'm going to make.