Girls' Golf values practice and improvement in the swing of new season
Hang on for a minute...we're trying to find some more stories you might like.
 It's only August 29 and the end of the season feels like a chip and a putt away. With the conference tournament in less than a month, the Girls' golf team is spending their afternoons working hard to polish up every facet of their game. The frequent matches help the team get the playing time they need. This season the team shares a common goal: improvement.
Like every high school sport, a team has to adjust to moving on from graduated seniors. The girls' golf team knows this very well. Coach Rob Jordan has been coaching golf for thirteen years, and this season has been an adjustment for him and his team. "We lost four of our top six players, which means new girls have to step up into varsity spots," he said.
Every year player loss can hurt a team. In the case of golf, a team only consists of around sixteen to twenty players spread between junior varsity and varsity. This means that every year the varsity team has to count on a majority new set of players. Coupled with a shorter season, the team finds ways to get closer and exceed their own expectations.
Golf is a sport where you compete against yourself more than anyone else. It becomes an individual battle that can be lost without any outside factors. The team's environment has to play a big role in individual success. "We're all a super close team, I mean it's a short season but it's also a small team so we're all really close and we all motivate each other," senior Grace Buchta said.
The team spends their time at practice working on the holes in their game. They find their weaknesses and try to eliminate them the best they can. Although, there is a limited amount of time for this, as the team plays two matches a week. "All we can do in practice is try and get out and work on specific things and see how they apply when they get out to play," Jordan said.
Tryouts and limited spots every year help motivate players to keep improving so that by the time the season rolls around they are at the top of their game. They are expected to spend their offseasons playing as much as they can. "Hopefully the girls get a lot of play in over the summer," Jordan said.
Golf can be an overlooked and underestimated sport. In practice and in matches, day in and day out, the members of the team are working on their game. Every practice and match is a marathon in a season that feels like a sprint.
About the Contributor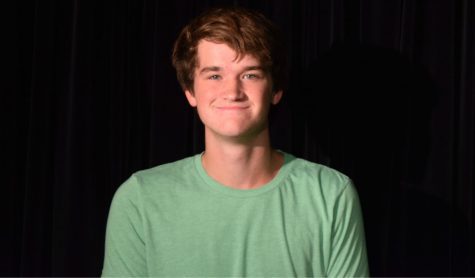 Nate Burleyson, Sports Editor
Nate Burleyson is the Sports Editor and the local blog boy of Meteamedia.org. He is commonly found writing, watching movies, or napping. You can follow...