Weekly Sports Update: 9/3-9/8
Boys' Cross Country (Leland Pan)
The boys finished 38th out of 44 teams at the First to the Finish Invitational in Peoria on Saturday at Detweiller Park. Senior Benjamin Malloy finishes in the 38th slot for the meet, leading the Mustangs. They will run at the Run-A-Thon the following Saturday at Metea Valley.
Girls' Cross Country (Madison McCalley)
The team finished 14th out of 35 teams at the First to the Finish Invitational in Peoria on Saturday. Junior Sophia Sandy lead the team finishing in 66th place in the 3-mile run. Their next event is a Run-A-Thon at home on Sept. 22.
Football (Nate Burleyson)
The varsity team lost 6-34 to DeKalb last Friday. They travel to Naperville North this Friday.  
Boys' Golf (Leland Pan)
The boys lost to Naperville North with a final score of 156-159 last Tuesday and defeated Naperville Central last Wednesday, moving to 2-2 overall in the conference. They play the Aurora City Meet on Wednesday at Phillips Park in Aurora, and Wheaton North on Thursday at Arrowhead Golf Course in Wheaton.
Girls' Golf (Nate Burleyson)
Last week the team played two DuPage Valley Conference matches. On Wednesday they lost to Waubonsie Valley at Springbrook GC, and on Thursday they fell to Naperville Central at Orchard Valley. This week they have three away matches against Batavia, Plainfield East, and Naperville North.
Hockey (Nate Burleyson)
The varsity Warriors hockey team played in a preseason invite over the weekend. On Thursday night, they took on Glenbrook South and won 4-3. They then lost in a shootout on Friday 3-4 against Glenbrook North. Saturday they finished pool play against Highland Park winning 9-3. Metea junior Zach Pearce had a pair of goals against both Highland Park and Glenbrook North. They play against York this Friday in Addison.
Boys' Soccer (Nate Burleyson)
Last Monday, the varsity team tied against Naperville Central 0-0. They then played Wheaton North on Saturday in the PepsiCo challenge and lost 2-0. They have Waubonsie Valley at home next Tue., Sept. 18.
Girls' Swim and Dive (Madison McCalley)
On Saturday, varsity finished in fourth place and junior varsity finished in second place at Neuqua. Sophomore Mckenna Stone broke the meet record for the 50 yard free and she broke both the school and meet record in the 100-yard fly. Their next meet is at Naperville Central on Tuesday.
Girls' Tennis (Leland Pan)
Due to inclement weather on Wednesday, the girls did not play Wheaton North. The Mustangs play IMSA on Monday, Hinsdale South on Tuesday, and the conference match Naperville North.
Girls' Volleyball (Madison McCalley)
Despite the humidity, varsity won in three sets at Hinsdale South on Wednesday. Ellie Heney and Regan Holmer got the first double-doubles of their varsity career. Heney had 12 kills and 10 digs and Holmer had 18 assists and 10 digs.  Next week, the team plays home against Plainfield East on Monday. As well as against Sandburg and Hinsdale South on Wednesday at the Wheaton Classic, and they finish their week at Naperville Central Thursday night.
Leave a Comment
About the Contributors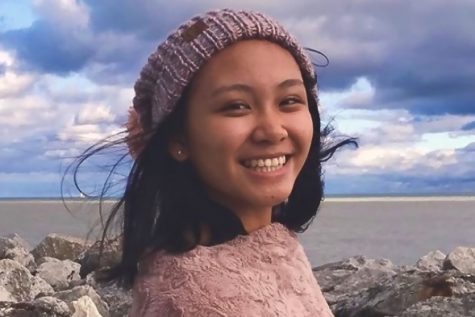 Leland Pan
Leland is the Editor-in-Chief of Metea Media. She was a sports Reporter her sophomore year and the sports Editor in her junior year. After spending two...