Girls' Volleyball falls to Neuqua Valley in Dig Pink match
The girls' volleyball program played its annual Dig Pink match in the Neuqua Valley gym on Thursday night. The girls lost to the Wildcats in two sets, losing 15-25 in both. The girls were proud to be able to raise awareness for breast cancer. The two conference rivals come together to play this game and sell shirts in support of breast cancer research for a foundation called Side-Out which funds the treatment of breast cancer.
In honor of the foundation, the program sold the shirts for ten dollars during lunch periods on Thursday while students and teachers were also given the chance to pre-order the shirts if they were able to find a volleyball player to order the shirt from. "[To see] the girls, especially with a younger team this year, going around selling shirts to their friends and teachers, and even introducing themselves to everyone in the fall is incredible. To even see the freshman going around and introducing themselves to teachers and their peers as [volleyball] players is amazing," head coach David Macdonald said.
After selling t-shirts during all lunch periods on Thursday, the program was able to raise enough money that will go back to fighting breast cancer as well as selling out of all t-shirts. "We get some competition out of [the game]. We love wanting to know who sells the most shirts and everything like that. We love raising more money than Neuqua, we've done that every single year. I think we've raised over $1,500 more than [Neuqua] did," senior Cayley Frolik said.
The program has been doing this tradition and traditions similar to Dig Pink since Macdonald started as head coach about six years ago and hope to continue to do these kinds of games in future seasons. "We used to do 'three teams, one fight' with Waubonsie and Neuqua. Then Waubonsie got a new head coach a few years ago, and I became the head coach here, and we've been doing [the] Dig Pink [game] with Neuqua since," Macdonald said.
The volleyball program also participates in similar ways to give back to the community, like Feed My Starving Children while bonding over the course of the season. However, with a 0-4 record in conference, the team is hoping to come back stronger and hungrier with another chance to play Neuqua later in the season and its next game at home on Monday against Minooka.
View Comments(1)
About the Contributor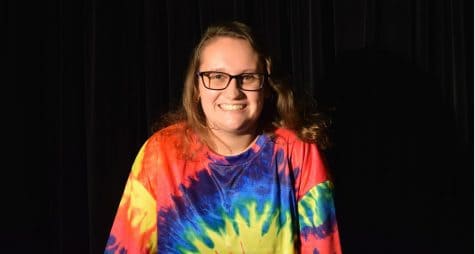 Kellie Foy, Magazine Editor-in-Chief
Kellie is a senior entering her third year of the Stampede. She is the Magazine Editor-in-Chief and has been a sports writer for the past two years. She...