NBA season preview: predictions, storylines, and more
Hang on for a minute...we're trying to find some more stories you might like.
It's finally that time of year. When I can spend any evening I wish watching the greatest sports league in the world. Where I can struggle to stay up to watch west coast games, enjoying every minute of the NBA season. The best basketball being played with interesting drama and personality to boot. Let's dive right into my season preview.
Standings
In the NBA, not much seems to change year to year when it comes to standings. The biggest and fairest complaint about the league is the lack of parity. The best team seems to win the championship every year. (Oh the horror, the BEST team winning the championship?) The Eastern conference has less of a talent pool than the West, none of the top five players in the league play in the East. Yet this makes for close runs at the end of the season where the 4th seed is still battling to keep in the playoffs in March. It adds a level of excitement to teams that may not have a real shot at a ring. I won't write something for every team, but just the ones that I feel deserve some words.
East
15. Atlanta Hawks
This ball club is rebuilding. They lost coach Mike Budenholzer to the Milwaukee Bucks and they are looking to let #3 overall pick Trae Young and second-year center John Collins run wild en route to maybe 20 wins. Jeremy Lin adds some spark to this lineup that doesn't really have the talent to do anything other than developing.
14. Orlando Magic
13. New York Knicks
The Knicks rookie trio of Alonzo Trier, Kevin Knox, and Damyean Dotson is a promising young core that will have to step up in absence of the injured Kristaps Porzingis. The future of the Knicks starts next year. Frank Ntilikina will hopefully develop his offensive game to add to his stellar defense. This Knicks team could be exciting, next year.
12. Chicago Bulls
The Bulls find themselves in an interesting spot this year. They aren't fully committed to the tank, and it probably isn't good for this young core to "try" to lose again. But they have a great opportunity to be a boom or bust team. If Jabari Parker proves his worth, and Zach LaVine plays up to his All-Star potential, this team could battle for a fringe playoff spot. Once Lauri Markkanen got hurt, the team lost their swagger and could go on a skid to start the season.
11. Charlotte Hornets
10. Brooklyn Nets
9. Cleveland Cavaliers
The post-LeBron James depression could be real for this team. It's relatively the same team as last year plus rookie Colin Sexton and third-year big Sam Dekker. This team without LeBron didn't feel that great. They will probably slide down and be stuck in NBA purgatory unless Kevin Love steps into his number one option role and plays like the far-removed Minnesota version of himself. No matter what Tristan Thompson might thing, the East doesn't run through the Cavs, just over it.
8. Detroit Pistons
7. Miami Heat
6. Washington Wizards
Oh the Wizards, what a lovely backcourt you have, why o why do you never do anything with it. This team has been the biggest all-bark-no-bite squad in all of sports recently. John Wall and Bradley Beal haven't willed this team past the second round of the playoffs. It always seems like a chemistry thing too. Now they lost Marcin Gortat and got, Austin Rivers. They also added Dwight Howard. Pure skill can get this team to the playoffs, but Washington needs to look at the insides of their organization moving forward if they ever want a championship.
5. Milwaukee Bucks
4. Indiana Pacers
Pacers basketball is heartwarming, it's Victor Oladipo doing whatever he pleases in a system that's friendly to young big Myles Turner (who just got the 4 years, 80 million dollar contract). This team was willed to 48 wins last year under then first-year head coach Nate McMillan. Domantas Sabonis could step into a bigger role this season and help make this already great team into a contender.
3. Philadelphia 76ers
2. Toronto Raptors
People seemed to dismiss the Raptors at one point this offseason. Last postseason, they became a joke. Getting swept by LeBron for the second year in a row after being the first seed. Did it prove that the regular season didn't matter? I don't think so. Kawhi Leonard is a top five player in the league when healthy, he brings Danny Green with him from San Antonio. Kyle Lowry will give what he has left and I think this Raptors team has something to prove. I am very excited for a potential matchup against the 76ers.
1. Boston Celtics
The Celtics might have the deepest roster in basketball. Kyrie Irving, Gordon Hayward, Jayson Tatum, Jaylen Brown, and Al Horford is the best defensive five in the league. They were able to keep key pieces of the team that almost made the Finals last year. Marcus Smart and Terry Rozier add to a bench that will help this team in the regular season.
West
15. Sacramento Kings
This team looks bad. Sacramento has spent their time at the bottom of the league since the Demarcus Cousins era. I don't see that changing anytime soon. De'aaron Fox and Marvin Bagley III are interesting, yet this team is in the same spot as the Hawks. Another rebuild is coming.
14. Phoenix Suns
13. Memphis Grizzlies
12. Dallas Mavericks
The Mavericks are fun. The team is slowly budding into a nice post-Dirk era. Dirk is going to go on his farewell tour, he'll try to pass Michael Jordan on the all-time scoring leader list. But the future is in Luka Doncic and Dennis Smith Jr. Alongside them are hitchhiking vets DeAndre Jordan and Harrison Barnes, who know about the playoffs and will want to help this team get there. But not this season, they do look better than the other rebuilding teams though, and Rick Carlisle is one of the best coaches in the business.
11. LA Clippers
10. Minnesota Timberwolves
Oh Minnesota, you could have been something. Everyone was ready for the spooky wolves who were promising pups and now are dysfunctional. With Jimmy Butler, this team was going for the playoffs, without him they will probably fall. Without him, Karl Towns will have to try to carry this team to the postseason. If Anthony Davis can barely do it, Towns can't.
9. Portland Trailblazers
8. San Antonio Spurs
7. New Orleans Pelicans
I'm excited for a Pelicans team with an even better Anthony Davis. Jrue Holiday is an All-NBA defender, and Julius Randle off the bench will provide the scoring they need. Nikola Mirotic should be able to do what he can do. This team proved against the Blazers last postseason that they can be elite.
6. Los Angeles Lakers
5. Denver Nuggets
The Nuggets have a lot to prove. They are amongst the most fun teams to watch play, the move the ball, Jokic has a fine touch to his game, and Jamal Murray is budding. The Nuggets need to put their potential into work. They went on a crazy streak post-All-Star break where Jokic put up 25/11/6. If he can do that at the beginning of the year, the team will compete for a top-four seed.
4. Oklahoma City Thunder
Russell Westbrook has always been one of the best players in the league. His playstyle hasn't always lead to wins. The Thunder had a Carmelo experience last year that didn't mesh. But when Paul George announced at Westbrook's party that he would stay in Oklahoma you could see a revitalization of this core. PG13, Westbrook, and NBA GM's toughest player Steven Adams will navigate the tough west.
3. Utah Jazz
This could be the best defense in the league. Coach Quin Snyder is doing something great in Salt Lake City. Donovan Mitchell could take the leap to stardom, Rudy Gobert can repeat as DPOY, and the Jazz could nap a top three seed in the west.
2. Houston Rockets
1. Golden State Warriors
Awards
MVP: Kyrie Irving
Defensive Player of the Year: Rudy Gobert
Six Man of the Year: Julius Randle
Most Improved Player: Brandon Ingram
NBA Champions: Golden State Warriors
Four Fun Storylines
People think the regular season of the NBA doesn't matter or is boring. It's a grueling 82 games that can become bland without context in every game. Here are four storylines to watch this season.
1. The Fall of the Spurs
The San Antonio Spurs have been in the playoffs since the 1996-97 season where they tanked for Tim Duncan. Last year was the first time they didn't win 50 games since then (leaving out the 1998 lockout season where they only played 50 games). Their big three of Duncan (retired), Tony Parker (in Charlotte), and Manu Ginobili (retired) are no more. Kawhi Leonard is gone, DeJounte Murray is injured, Derrick White is injured, and they're left with an aging LaMarcus Aldridge and new-kid-in-town Demar DeRozan. The future is misty for San Antonio if last year was the first year they couldn't win 50 games, is this the year they miss the playoffs?
2. The Emergence of the League's Future Stars
Moving out of the Kobe era, we got LeBron, Kevin Durant, Steph Curry and more. Now with them all going towards the end of their primes, new faces are starting to make themselves known. Giannis in Milwaukee, Anthony Davis in New Orleans, Joel Embiid and Ben Simmons in Philly and more. Each of these players is going to have to take a step to superstardom to be able to lead the league as LeBron moves towards Hollywood.
3. LeBron in La La Land
LeBron in Los Angeles feels right, and I think it's been planned for a while. It just makes sense for basketball reasons as well as pure entertainment. He is taking over a team and changing their championship window from four or five years away to one year. The LeBron effect is finally in the West. The Lakers should make the playoffs, but can LeBron handle the West?
4. Kawhi's Redemption
Caught up in the drama over him sitting out a majority of the 2017-18 season, we forgot how good Kawhi Leonard is. His 2017 series against the Rockets feels far removed from who he is now. But Kahwi still has the elite offense and defense that made him a top-five MVP candidate. I believe he is a top-five player when healthy. Now in Toronto, he can make a surge back into the public praise.
About the Contributor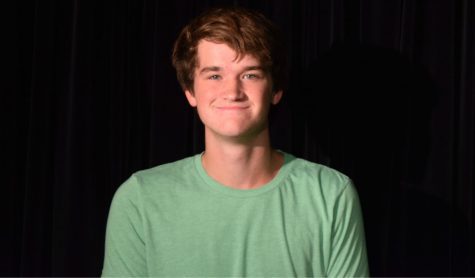 Nate Burleyson, Sports Editor
Nate Burleyson is the Sports Editor and the local blog boy of Meteamedia.org. He is commonly found writing, watching movies, or napping. You can follow...