Stampede Staff Playlist: February Edition
Hunter Kulak (Perspectives Reporter):
Viva La Vida – Coldplay
A song that I really enjoy. The popular band Coldplay, released 2016 was the inspiration for a Minecraft Music video by CaptainSparklez which is what inspired me to look up the original song which had become easily one of my top 10 songs.
25 or 6 to 4 – Chicago
A great classic Hard Rock song from the band Chicago. A song introduced to me from my dad, shows the highlights of rock music from the 70's. A piece that still remains on my Spotify playlist to this day.
Here With You Now – Grabbitz
Not the typical version of a romantic song. Old style of Drumstep, the song's integration of breaks and pauses along coordinated with the lyrics are immensely well planned. (Even if the lyrics are only at most 8 different lines.) I think it's good to listen to this song whenever I want to think about someone who makes me happy.
Myra Bajwa (Website Manager, Social Media Editor, Perspectives Reporter):
With You – Tyler Shaw
This is a classic love song that tells the story of two people who fall in love at a chance meeting and end up married with a family. Shaw sings of devotion and the willingness to do anything for the person you love.
Throwback – Delaney Jane and Shaun Frank
The quintessential story of falling in love as kids, then reconnecting as adults after major life changes and decisions. The beat will remind you of summer nights where you run around the city and make memories.
"Blvd" – Adam Ragsdale
A slow ballad that goes back to the early stages of a relationship and the wonderful feeling of the honeymoon phase. It tracks the progression of love and reflects on past memories as they move forward.
Aimee Leal (Photography Editor):
Ghostin – Ariana Grande
I like this song because it's a sad/break up type and it has an amazing intro with a great little storyline within the lyrics.
One Wish – Ray J
this song is a good r&b song and just overall cute. 
Candy Rain – Soul for Real
THIS IS A CLASSIC! it never gets old and can be listened to any time. also a cute song and can easily get stuck in your head.
Maddie Crabtree (Online Editor-in-Chief):
Sports-Beach Bunny
I chose this song because I think it fits perfectly for this season. It's a bittersweet love song that talks about the frustrations people go through when really trying to connect with someone nowadays. It can be hard when people don't show their true emotions and this song captures that attitude so well.
Dissolve-Absofacto
This song is about a guy trying to get this girls attention who really does not feel the same about him. It's another bittersweet song but this one is a lot more upbeat and gives off a "fun" vibe. He's really good at creating a clear vision of how he is feeling throughout the song.
Can't Get Over You-Joji
Yet another song about a guy falling head over heels for a girl he can't get. This song perfectly shows how it feels to be in the "puppy dog" phase of having a crush. He even talks about he has no social cues when he's around this girl just like most people are around their crush.
View Comments (3)
About the Contributor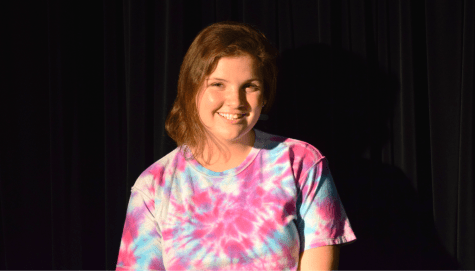 Maddie Crabtree, Metea Media Editor-in-Chief
Maddie Crabtree is a Senior and the Editor-in-Chief of Metea Media. She has been on staff for three years and has a huge passion for all things journalism....