Oscar Week: Why Black Panther made history as the first superhero movie nominated for best picture
As you might have already heard, a little film called Black Panther came out in February of last year and took the world by storm, shifting Hollywood dynamics and opening the door for a new era of diversity in Western cinema.
Netting a global box office total of over $1.3 billion, Black Panther made history as the highest grossing solo superhero film of all time, the ninth highest grossing film of all time, the second highest grossing film of 2018, and the highest grossing film by a black director of all time. In addition to those mind-boggling financial statistics, Black Panther also broke the Hollywood stigma that black-led films perform poorly overseas, and paved the way for other minority-centric films like Crazy Rich Asians to achieve massive success. Though those feats are impressive and should by no means be overlooked, Black Panther has also broken down barriers in another major way: it is the first superhero film to be nominated for best picture at the academy awards.
While Black Panther was almost unquestionably the most talked about movie of the year (second only to perhaps Avengers: Endgame), there was still much skepticism as to whether or not its social popularity would translate into popularity with the notorious academy voters. Looking at the history of superhero films at the Oscars, it is not difficult to understand why so many critics have scratched their heads at Black Panther's best picture nomination.
For starters, superhero flicks have had historically abysmal success at the Oscars. Films that have been considered groundbreaking in the genre, like The Dark Knight and Logan were not even awarded nominations for best picture, and the closest thing that superhero movies have come to the best picture win was with 2015's Birdman, which is technically a superhero movie but is not the type of big-budget, high-octane film typically associated with the genre.
So, why have superhero movies failed to secure a nomination for best picture? The most obvious answer is that unique other mainstay genres in the best picture category, superhero films usually aren't produced with the intention of garnering awards or critical praise. Unlike typical best picture nominees, which focus on critical reception and having a high-brow concept, superhero movies, Marvel movies, are made to entertain and to make money at the box office.
It is no secret that Marvel has dominated the worldwide box office for almost a decade now, but massively popular movies like Iron Man and The Avengers fail to earn anything more than a VFX or editing nomination. To an academy member, these films are not considered "Oscar material", because they are treated less as pieces of moving art, and more as vehicles to sell merchandise.
Enter Black Panther.
True, there were thousands of children running around with T'Challa action figures and wearing Killmonger Halloween costumes, but the movie itself was not just a popcorn blockbuster. Unlike its other Marvel predecessors, Black Panther had a clear message and an incredibly relevant one at that.
In an interview with Rolling Stone, director Ryan Coogler explained that before getting the call for Black Panther, "I was grappling with something I've kind of been scraping at my whole life…which is my cultural identity, and what it means to be African." Coogler's search for identity and longing to connect with his heritage is the basis for one of the driving themes throughout Black Panther, and a major aspect of what sets it apart.
Though Black Panther certainly doesn't skimp on the big action setpieces that are typically associated with a Marvel movie, Coogler's deep personal connections and interests in African heritage elevate Black Panther from a movie about a superhero to a movie about a man searching for his identity and coming into his own both as a person and a leader. The protagonist, T'Challa, not only has to face a crisis of faith but also has to deal with life-altering decisions that involve subjects like border control, humanitarianism, and the aiding of refugees – all of which are topics that are ripe for discussion in modern day politics.
In my eyes, it is that meaningful, modern connection that has allowed Black Panther to break down the barrier for superhero movies in the best picture category. Whether or not it will win as an entirely different story, but it is undeniable that Black Panther's nomination has proven once and for all that the superhero genre is capable of producing Oscar-worthy movies. While this doesn't mean that we can expect to see a caped crusader snag a best picture nomination every year from now on, the message has been sent to Hollywood: if you can make a superhero that goes beyond a superhuman saving the world, you could see an Oscar nomination come your way.
View Comments (11)
About the Contributor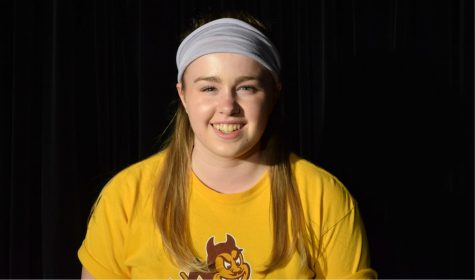 Lauren Coates, Headlines Reporter
Lauren Coates is a senior and a first year headlines reporter for Metea Media. She loves all things pop culture, including music, TV, movies, and celebrity...