Weekly Sports Update 4/22-4/28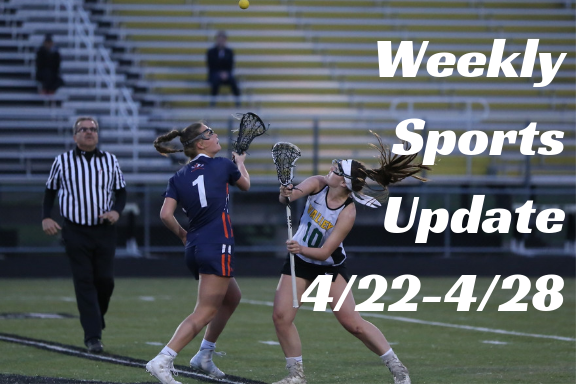 Disclaimer: Interested in becoming a contact for your sport to get the most information out on Weekly Sports Update? Please contact the sports editor at [email protected] to help out in the spring season.
Boys Baseball (Nate Burleyson)
The Mustangs played against Neuqua Valley last Tuesday and lost. The following day, the varsity team fell short against Waubonsie Valley 1-2. Last Thursday the boys turned the tables around and beat Waubonsie Valley 5-4. They will play against Waubonsie Valley again today at home due to the canceled game on last Saturday.
Girls Softball (Nate Burleyson)
The girls lost to Neuqua last Monday, but came back and won against Waubonsie Valley last Tuesday. The following day was a rescheduled match from April 18 against Naperville North and lost by 1 run. On Thursday they played against Naperville Central. They will host the next game will be on Tuesday against Naperville North at 4:30 pm.
Boys Track and Field (Madison McCalley)
The Mustangs took on Waubonsie last Tuesday. On Friday, the Mustangs ran at the Red Ribbon Invitational at Waubonsie. Senior Temi Osobamiro placed first in the 100-meter dash and third in the 200-meter dash. Temi also placed first in the long jump and first in the triple jump. The Mustangs will head to Hinsdale Central this Friday.
Girls Track and Field (Madison McCalley)
To start off last week, the Mustangs competed in a Triangular Meet at Naperville North. The Mustangs had another meet at New Trier on Saturday. The girls have their next meet this Thursday at the Dupage Valley Conference.
Boys Water Polo (Nate Burleyson)
The Mustangs had Senior Night against Hinsdale Central last Thursday. They will travel to their upcoming game will be on Wednesday against Riverside Brookfield 6 pm.
Girls Water Polo (Madison McCalley)
The girls headed to Hinsdale Central on Thursday. Over the weekend, the girls had a meet at Hoffman Estates. The girls have a meet today and they swim against Hersey.
Girls Badminton (Leland Pan)
The girls hosted a Senior Night against Waubonsie Valley and won 13-2 last Tuesday. They took their success into the Dupage Valley Conference last Thursday. Varsity finished 7-6 on the season, 2-2 in the Dupage Valley Conference. They will head to the Illinois High School Association Sectionals on Thursday.
Girls Lacrosse (Leland Pan)
Last Wednesday, the girls beat Naperville North 11-10 for the first time in program history. The following day they played against St. Charles East and lost. Their conference record is 7-3. On Wednesday, they will host their next game against Naperville Central at Waubonsie Valley 6:30 pm.
Girls Soccer (Leland Pan)
The Mustangs played against Minooka last Monday and tied due to insufficient weather. They travel to their next game will be against Neuqua Valley at 4:30 pm.
Boys Tennis (Leland Pan)
The boys played a match against Naperville North last Tuesday and won 4-3. The following day, they played Batavia and also won 5-2, and on Thursday they lost against Neuqua Valley 0-7. The Lincoln-Way East match was canceled on Saturday due to snow and rain. The Mustangs will have an away match against Oswego on Wednesday at 4 pm.
Boys Volleyball (Leland Pan)
The varsity team won against Willowbrook in two sets last Monday. On Tuesday, the boys fell short in a tight three-set match to Naperville North. The boys then played against Neuqua Valley last Thursday and encountered a two-set loss. They will host their next game on Tuesday,  against Waubonsie Valley at 6 pm.
Ultimate Frisbee (Leland Pan)
The Mustangs played against Naperville North and Downers Grove South last Wednesday and won. They played yesterday against Mason, Evolution, and DeSmet Ultimate. The boys lost to DeSmet, however, won against Mason and Evolution Ultimate. They will play Matavia and Wheaton Warrenville South on Wednesday.
View Comments (1)