Volunteers beautify downtown Naperville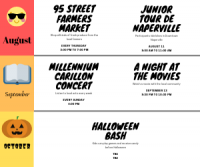 It's a bright early summer day in downtown Naperville. Walking across the winding trails of the parks in relative silence makes the park seem completely isolated from the busy commotion of the downtown area. All over the park, however, a different type of commotion is seen throughout the entire park. All around the newly planted trees and flowers are volunteers putting using their own time to weed, plant, and improve the park. 
"The Naperville Park District is divided in a couple sections. I think that there is usually between 3 to 5 people working on this kind of stuff per day," Samantha Cone, a Park District employee, said. All around Naperville, staff and volunteers collaborate to bring a positive environment to people's lives. They plant, clean, and host events such as 'Halloween Happening' and 'Santa House', which a variety of people come to help out. "We volunteer every other Wednesday from 8 till 10:30, and April to November," Susan, a volunteer for the last 4 summers, said. Most volunteers can expect to be kept busy throughout their day. For example, in the case of Samantha, her team was tasked with weeding and planting all throughout the downtown area. 
Whatever the job is, there are always volunteers that will be needed to rise to the occasion to get the job done. Volunteers are always needed for events and the park district. Students can get involved in these opportunities within the program, they can apply at the Naperville Park District building. Upcoming events include the 95th street Farmers Market on Aug. 29, and the Millennium Carillon Weekly Recital on Sep. 7.
View Comments(1)