Metea's Collaborative Art Project kicks off the year for the art department
Art, typically, is a solo act. People imagine a singular painter, sculptor, or another artist, expressing their creativity alone. But that image doesn't always apply, as Metea's Art Department displayed last week. The Art department started their year by creating "The Artists of Metea", a collaborative art installation of hanging wire portraits made by every student and teacher in the department. The project is currently being displayed outside of the main office.
All art classes, regardless of the type, took part in this project. Along with their teachers, art students got their portraits taken and were told to use wire to recreate the portrait. By using wire to trace over their faces, students had the opportunity to get creative with how they portrayed themselves. Portrayals varied from realistic to abstract, highlighting various aspects of themselves.
Not only is the project a transition into the school year, this project acts as a bonding experience for the whole department and an intro into Metea's studio environment. The students all used the same wire and had the same goal, but there's still variety in the portraits. 
"They're learning to interact with their art," art teacher Karen Popovich said. "Students that are doing this didn't really sign up for, you know, installation art; they sign up for photography, or computer graphics, or drawing or painting or whatever. But they're all jumping straight in and realizing that this is about the artistic process, and creatively making something together". 
The reception of the project has been high. Coming off of last year's first attempt at a collaborative project, students are engaged in making their contribution to "The Artists of Metea" the best that they can. Students who aren't involved in art classes have been noticing the installation as well. 
Senior Alyssa Villanueva commented on the project, saying "it was really fun. It was a little bit difficult because of some of the minor details with the wiring."  Overall, "The Artists of Metea" is more than an introduction to the school year, it's an introduction to being artistic in a classroom setting. 
View Comments (2)
About the Contributor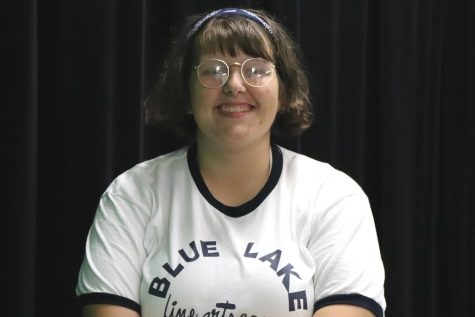 Claire Baffes, Headlines Reporter
Claire Baffes is a senior, this is her first year on staff, and she's very excited to be here. She's an avid member of Book Club, English Honors Society,...