Weekly Sports Update 9/16-9/22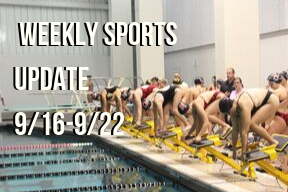 Girls' Cross Country (Alex Bedore)
The Mustangs was the top 25 programs in the state. The team continued their success participated in the Run-a-Thon event at Metea on Saturday. Their next meet is  The Latin School of Chicago Invite at Lincoln Park on Saturday at 8:30.
Boys' Cross Country (Tyler Perry)
There were no meets this week. The Mustangs will travel next Saturday to Lincoln Park. 
Boys' Football (Alex Bedore)
The boys' football team played against Naperville Central on Friday. The Mustangs took a hard loss to the RedHawks. The Mustangs next game is the homecoming game against Dekalb on Friday.
Girls' Golf (Tyler Perry)
The Girls' Golf team started their week off with a great win against Plainfield East this past Wednesday. They won their match by a score of 199-212. On Thursday, they struggled against Naperville North with a score of 210-176. They look to bounce back this week against Batavia High School at Orchard Valley Golf Course today. 
Boys' Golf (Jose Collado)
The Mustangs keep improving in conference play after beating Neuqua 160-166, moving to 3-1 in the DuPage Valley Conference. The boys came in second at the Aurora City tournament. 
Boys' Soccer (Jose Collado)
Last Saturday, the boys took a tough penalty shootout loss to West Chicago after a 1-1 tie. The Mustangs took another loss on Tuesday via a penalty shootout after ending the game 0-0. They were able to end the week on a good note by winning 5-0 against Juarez behind a hat trick from Alex Krehl.
Girls' Swim and Dive (Elena Buscher)
Metea took on Naperville Central and Dekalb this past Thursday. Their next swim meet is on Tuesday, against Lake Park.
Girls' Tennis (Leland Pan)
The Mustangs will be hosting a Chipotle night at 848 North Route 59 Suite 106 in Aurora today from 5 pm to 9 pm. 33% of the proceeds will be donated to the Metea Valley Girls' Tennis Team. They played three consecutive matches starting off with DeKalb High School last Tuesday. The Mustangs continued to play against Hinsdale South on Wednesday (7-0)  and Naperville North on Thursday (3-4). The girls wrap up their week with a 4-1 win at the Downers Grove North Invite last Saturday. The Mustangs will host Neuqua Valley this upcoming Thursday. 
Girls' Volleyball (Elena Buscher)
The Mustangs started the week at the Wheaton Classic going 0-2. On Thursday, they took on Downers Grove South but fell short of a win going 0-1. They were back at the Wheaton Classic winning 2-1 on Saturday. Their next game is Tuesday at Naperville Central.
Leave a Comment