Naperville's People Tree builds a community through storytelling
People tree is a community storytelling event originated by producer and director Rachna Prasad, producer and director Claire Dee, and creative director Kat Gilbert. The three female founders have continued to work to build this community of live storytelling for three years now, having two seasons each year hosted at Empire in Downtown Naperville. Each month, there is a theme that resonates with all the stories. The theme of "School" reflected all the performances of this past Thursday on Sept. 19. 
The storytelling session always starts off with a brief introduction by host Matt Jones. Jones speaks of why they decided to build this event of sharing experiences and stories to the community and the power it has.
"I love that storytelling is so popular because it shows that you don't have to be a celebrity or famous to have had something interesting happen in your life. It really brings people closer together because we all find something in common when we hear one another's stories," Jones said. 
People Tree started off in the Prasads' living room when a woman in her community took her life and left the community struck. Prasad then wanted to bring people together to engage in difficult topics and find support in the community through that. The meetings in Prasad's household then developed into a bigger organization where they now perform at a restaurant and build their brand name through their website and social media platforms. The purpose of the performances still has stayed consistent throughout the development of the program. 
"We don't want people to come out and use it as a soapbox or promote a charity or political party. Our show is about stories and personal experiences. It's not stories about dragons and wizards, it's about true life that you feel the rawness of, very often, if its a heartfelt story," Dee said.
The storytelling is just as fun for the audience as it is for the storytellers themselves. An English teacher at Neuqua Valley, Mike Rossi, who has been a member of the audience for the past season, shares the stage to perform his own story to everyone. Rossi shares why he decided to share the experience of telling a story and why it is essential to humans. 
"People are born to tell stories. Every single person is a storyteller and is hardwired to love storytellers. So there's just something about our evolutionary biology that we were drawn to stories. We understand existence narratively," then elaborates how "You have people who are strangers and then one of them opens up and just tells the story and all of a sudden you can identify with them. You recognize them, empathize with them, and you appreciate them," Rossi said. 
The 7-8 minute stories help build the community of Naperville and Aurora by building personal connections with the performer to the crowd of people, through the insights of their story. The audience can experience laughter, empathy, sadness, and reflection through the rollercoaster of perspectives that each story gives.
Any individual, 14 and up, is allowed to submit a draft of their story for the upcoming seasons of this year if there are slots available. The theme of the performances on Thursday, Oct. 17 is going to be "unexpected encounters" where anyone is encouraged to either submit a story pitch or purchase a ticket to attend the show. For the accepted story pitches, there is a free workshop the teller can attend in a relaxed and informal environment on a stage to a small crowd and receive constructive critique. 
If one is interested in purchasing a ticket or submitting a story pitch they should go to https://www.thepeopletree.org/
Leave a Comment
About the Contributor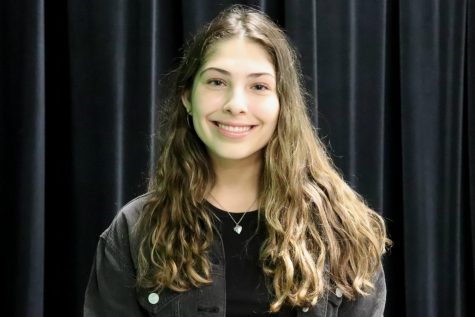 Isabella Villalobos, Headlines Reporter
Isabella Villalobos is a senior, and this is her first year as a headlines writer for newspaper. She is a member of the DECA business club, OLAS Hispanic...