Transgender athlete Schuyler Bailar speaks at Metea
Gender identity can be a difficult concept to comprehend in secondary education. And the people who have gone through the bridges, proceed to tell their personal story. With the help of the Sexuality and Gender Acceptance club and Parent Diversity Advisory, 23 year old Schuyler Bailar came to Metea Valley yesterday. He spoke with students about his narrative of being a transgender athlete. The fall tour took place during the fourth-period and an additional event in the evening. Bailar's event introduced in bringing visibility and resources diversity inclusion to schools.
The support from the Sexuality and Gender Acceptance club to bring Bailar to Metea was a year-long process. SAGA began to pitch ideas and initiatives to implement in the upcoming school year. Club members began to think about Schuyler's story coming out as transgender. "It gave our students an opportunity to see themselves reflected in a speaker that we bring to school. Especially the speaker who is inspiring and brave," SAGA Adviser Sarah Bathan said.
SAGA is a space for students who are questioning their identity or wanting to learn about LGBTQ. They continue to spread their message by bringing initiatives within the Metea community. "I think it is a good thing to spread awareness and learn that this [LGBTQ] is not a mental disability. It is a real thing," President of SAGA Kaiden Nerido said. With Bailar's message to society and SAGA's shared values, the club urged for Bailar to come and speak to Metea.
"Schuyler is one of my idols in finding myself and who I am. I found it as one of the greatest opportunities to see him in person. And get to know more about his experience," Vice President of SAGA Matthew Puffer said.
Bailar began swimming when he was one year old. When he was ten years old, he swam in the Junior Olympics. Five years later he was in the top 20 15 year old breaststroke swimmers in the United States. In 2013, his 400-Medley Relay Team set the group record at the USA Swimming National Championships. Along with his athletic success, Bailar worked to graduate within the top one percent of his graduating class. Within the coming months, he landed an opportunity on the Harvard Women's Swim Team.
Despite his recruitment to Harvard Swim, Bailar would prolong the conflicts of self-esteem. His fears spiraled with eating disorders and self-harm. Bailar's struggle with his confidence accumulated into events of the hospitalization. In the spring of his senior year, he took a gap year to work through his adversity.
In the coming months, Bailar attended therapy. It became coherent that he was struggling with his gender identity. Later he identified himself as transgender. The extensive thought in becoming transgender weighed into Bailar's difficult decision. It was either to be one step closer to being an NCAA Division I Champion as a woman. Or transition into a man and accept the adversity in acceptance and athleticism entailed.
"A lot of folks were worried about my ability to perform as a male athlete, specifically against other men. And I think they were worried about other people bullying me. In response, their protective instinct kicked in," Bailar said.
Bailar's family and coaches were supportive of his decision. "I think that Harvard did a fantastic job of being accepted in terms of administration. I was willing to walk through that [transitioning] with everybody," Bailar said. But, he suspects the more complicated process in transitioning if he had done it at home.
"It's hard to compare hometown versus Harvard because I didn't transition at home. I can suspect that it might have been harder at home because I think it is harder when people know you for 18 years. People had 18 to 19 years of calling me "she" and "her" pronouns," Bailar said.
Regardless of the transitioning, Bailar had one thing that never changed. The years that he has felt masqueraded, swimming was the staple for developing his character.
"Swimming has always been a place to relax and where I'm no longer a man or woman. I am just a body swimming. That's been something that's been really important to me. I can disconnect with the intellectualization of gender and personhood," Bailar said.
Four to five years later, Bailar is continuing to be an advocate for inclusion.
"I'm trying to prove the possibility of being able to be yourself, especially when those parts may be clashing with what society expects. And that your identity does not ever have to rob you of your own passions," Bailar said.
View Comments (1)
About the Contributor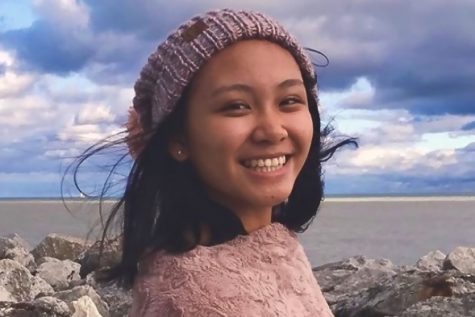 Leland Pan
Leland is the Editor-in-Chief of Metea Media. She was a sports Reporter her sophomore year and the sports Editor in her junior year. After spending two...