Progressives shine in the fourth Democratic Debate
The fourth Democratic Debate, jointly hosted by CNN and the New York Times, was the most significant debate so far. The stakes were high for the 12 qualifying candidates as many hoped to either get a second wind on their performance or rise to the top of the pack. For some, this debate will serve as a potential saving grace for their failing campaigns; for others, this debate will be the final blow. However, unlike the last few debates, there were a lot fewer standout performances.
Winners:
Former Vice-President, Joe Biden
Biden's one of the most peculiar candidates in the race, despite his lack of composure and weird moments throughout his campaign, the former Vice President has hung on to the top for most of the time he's been running. This recently changed, however, as senator Elizabeth Warren has mostly taken the mantle as the new frontrunner in the primaries. Joe Biden, after countless blunders and failures, finally fell off with his campaign making plans to lose Iowa, New Hampshire, and Nevada. Tonight, the candidate still had the same blunders and errors as he usually does, however, these came with a renewed sense of vigor within Biden. Unlike previous debates, Biden pushed forward and went on the attack on Warren and Bernie, ending up putting up a decent fight against his more challenging adversaries. It seems Biden does best when the spotlight isn't on him, though whether it will hurt or improve his poll numbers is still unknown.
Former Representative of Texas, Beto O'Rourke
Beto has been one of the most significant failures of the race so far. The young politician went from the shining star of the Democratic Party to one of the most puzzling members of the competition. His campaign was essentially over until the El Paso shooting gave him a second wind to embrace fierce anti-gun rhetoric, which has worked to keep him going for a short while longer. He won his engagements with Buttigieg despite his lack of composure and made the smart decision to align himself with the progressive left. This led to O'Rourke pushing past the misconceptions about him while being able to push his rhetoric and policies.
Senator of Vermont, Bernie Sanders
Bernie Sanders has not been performing too well following the third Democratic Debate. The rise of Warren led to him losing a lot of ground in polls leading to him trailing behind both Biden and Warren. Coupled with his heart attack a few weeks ago, things weren't looking great for the Senator from Vermont. Tonight, however, he has carried himself well and pushed through the pack despite speaking a lot less than his fellow democrats. Bernie has long been criticized for discussing the same talking points over and over, which looks poor in a debate format. Tonight, Bernie still stuck to his talking points but combined them with new rhetoric that allowed him to have some great moments throughout the night. From attacking Biden's record to his defense of the wealth tax, Bernie's relatively short speaking time showed quality over quantity, which, coupled with Representative AOCs endorsement of the senator, should increase his polling.
Entrepreneur, Andrew Yang
Yang had a poor performance in the third Democratic Debate. After failing to push his rhetoric well and getting himself out there as a proper voice within the party, Yang's campaign was clearly in trouble. Yang is in a unique position as one could consider him a single-issue candidate. While he does have numerous unique policy proposals, most of them align with the current dogma of the Democratic Party, which makes it so he doesn't have too much to add to the table. Tonight, however, Andrew Yang managed to debate his opponents and even introduce good ideas that weren't covered by other candidates. From speaking on universal drug criminalization to ways to combat automation, Yang was a clear, concise voice when compared to some of his fellow Democrats. With the support he already has from his relatively large fanbase, Yang should be able to make it to the next debates and maybe even to Iowa.
Senator of Massachusetts, Elizabeth Warren
Warren has had a constant streak of good fortune ever since her standout performance in the third Democratic Debate. She has risen to be the frontrunner of the race as she gains praise for the policy proposals she puts out while presenting herself as a more palatable Bernie Sanders. Warren has been playing both sides of the Democratic base for the duration of her campaign with a very exceptional payoff. Tonight, she proved she could keep her composure as countless Democratic hopefuls piled onto her to try to take her down. Her "alliance" with Bernie Sanders, where neither candidate attacks the other, has worked exceptionally well for her as she doesn't have to worry of critiques from the left, and the two can handily beat the centrist reviews during the debates. This led to Warren being extremely good at deflecting points and even putting on pressure on other candidates throughout the night. After this debate, Warren will become the clear frontrunner that other progressive candidates like Bernie Sanders and Tulsi Gabbard need to take note of as she continues to rise above them. 
Losers:
Mayor of South Bend, Pete Buttigieg
Buttigieg has long been seen as a well-spoken composed candidate that fits very well into the Democratic Establishment's preferred candidate. Tonight he once again presented himself as a that "perfect" candidate that gathered him the support he needed to make it this far. The young Mayor managed to snag the Obama protege title from O'Rourke and has been polling exceptionally well given his status as a newcomer to politics. Tonight, however, Buttigieg went on a campaign against some of the most basic beliefs within the Democratic Party and argued for the party to support the continued use of American military service members in Syria. Unlike his contemporaries who argued that removing troops was ideal but not in the way President Trump went about it, Buttigieg explained that America had a responsibility to remain there and even attacked Representative Tulsi Gabbard from saying otherwise. Arguing for the Democratic Party to embrace a policy of interventionism and continued involvement in the middle east is a losing strategy for the young Mayor. This, coupled with his bad-faith attacks on Medicare for All, will most likely have him losing votes to his mostly semi-progressive supporters.
Senator of California, Kamala Harris
Harris has fallen hard from the previous prestige she acquired following the first Democratic Debate a few months ago. After her viral moment where she attacked Joe Biden's record, she began to rise and rise in polls to the point where many believed she might have become one of the frontrunners in the race. This did not last. Over the past few months, Kamala Harris has consistently underperformed in both polling and debates to the point where she's on the same level as candidates like Beto and Gabbard. Tonight, she hardly spoke, and the few times she did speak where baffling and unnecessary. During a discussion on what the role of the President was when handling antitrust laws, Harris broke the conversation to weirdly attack Warren for not supporting Twitter, essentially censoring the President's tweets. These weird moments dominated her performance tonight and do not bode well for her campaign. If her poll numbers continue to fall following this debate, she may not even make it to the Iowa caucus.
Senator of Minnesota, Amy Klobuchar
Amy has long been one of the most universally disliked candidates in the Democratic primaries. The centrist Democrats see her as too smug and lacking in social issues to accurately represent them as their candidate while the progressives find her entire campaign to be terrible. Klobuchar has portrayed herself as being a voice that would get things done. She's arrived on the debate stage time and time again and argued that Bernie and Warren's positions were much too radical, and small change would serve the country better. Tonight was no different. Klobuchar went out of her way to attack both Warren and Sanders' proposals with mediocre success. The problem is that Klobuchar radiates an energy of smugness, which, coupled with her bad-faith arguments, makes her sound extremely unlikable. Unlike other centrists like Buttigieg, who couple their critiques with a composed, evident attitude, Klobuchar fails in every way to appeal to anyone within the party. Following tonight's performance, Klobuchar will most likely not make it much further in the race.
About the Contributor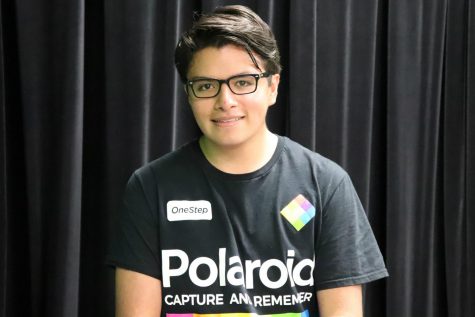 Marco Rivero, Spotlight Editor
Marco Rivero is a senior at Metea Valley and is spotlight Editor for the Stampede. When he's not listening to music, Marco enjoys keeping up with politics...