Weekly Sports Update 10/14-10/20
Boys' Golf (Jose Collado)
Sophomore Arjun Vyas became the first Metea underclassmen to ever reach the state finals after shooting a 79. He will play a practice round on Thursday morning and will play his first official round on Friday.
Girls' Cross Country (Alex Bedore)
The girls' cross country team finished their regular season in competing in the DuPage Valley Conference meet on Saturday. The Mustangs landed in fourth place, with two runners in the top 20. If they are chosen for IHSA Sectionals, they will compete at IHSA State.
Boys' Cross Country (Tyler Perry)
The boys' cross country team took part in the conference this past weekend in Waubonsie Valley. They came in sixth place as Owen Bosworth leads the way as he placed 21st in all runners. Seven of Metea's runners will take part in regionals this upcoming Saturday.
Boys' Football (Alex Bedore)
The football team played against Waubonsie on Friday. The Mustangs lost in a valiant effort to the Warriors, putting up 38 points, but it wasn't enough as Waubonsie won the game 38-49. The boys' last game is on Friday at home against Neuqua. 
Boys' Soccer (Jose Collado)
The boys won the WarStang Invite after tying 2-2 with Lemont last Saturday behind goals from Alex Krehl and Matt Dovalovsky. Their Tuesday matchup against Waubonsie Valley ended 1-1 after two overtimes. The Mustangs play again at IHSA Regionals on Wednesday. 
Girls' Swim and Dive (Elena Buscher)
The swim and dive team took on the Neuqua Valley Wildcats at a duel meet on Thursday. On Saturday, they competed at the Titan Relays hosted by Glenbard South, finishing first overall for the second year in a row. Their next meet is Thursday against Waubonsie Valley at the Metea Valley pool.
Girls' Tennis (Leland Pan)
The Mustangs set out to IHSA Sectionals last Friday at Naperville North and Naperville Central High School. Seniors Isabella Palm and Taylor Goldman`qualifies for IHSA State in doubles, and junior Meera Baid qualify for IHSA State in singles. The girls begin their tournaments on Thursday. 
Girls' Volleyball (Elena Buscher)
The girls started off the week with a match against DeKalb on Tuesday, winning in two sets. The Mustangs took on Geneva, falling short of the win last Wednesday. They continued to Naperville North on Thursday, losing in two sets. Their next match is on Thursday at 5:30 p.m. at Neuqua Valley High School.
View Comments (3)
About the Contributors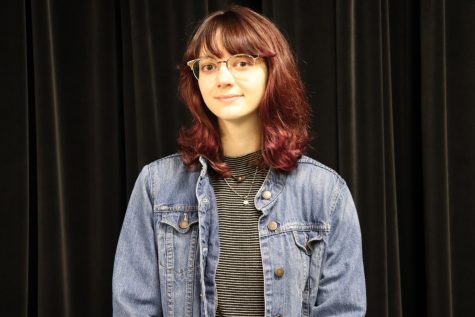 Madi Lumsden, Graphics Designer
Madi Lumsden is a very outgoing person. She is often seen around the art hall playing her ukulele, carrying her pet mantis, Pepperoni, or ranting about...