Girls' tennis state qualifiers finish their season with a bang
The girls' tennis team finished strong this year, taking three girls to the IHSA State competition. Seniors Isabella Palm and Taylor Goldman qualified for doubles, while junior Meera Baid qualified for singles. Doubles and singles played different schools, advancing until they lost two matches, and marking them as disqualified. 
Having a partner that can trust and play well is crucial in tennis. Seniors Isabella Palm and Taylor Goldman found this in each other, leading to their ultimate success this season. Being doubles partners for the entirety of this fall, they formed a bond that helped both their teamwork and friendship grow. 
"We complement each other with our strengths and weaknesses," Palm said. "Now we work a lot better together than we ever did in the past." 
Both girls grew this season as both teammates and individuals. Without trust and communication, they would not be able to reign as state qualifiers. 
"We knew we wanted to make it to state so that is what we were preparing for all season," Goldman said.
 In the end, their preparations worked out for them as they advanced to the second day of competition at the state tournament. The team ended up placing the top 20 in the state. 
If competing at the state level sounds difficult for doubles, imagine doing it all alone. That is what the state tournament was like for junior Meera Baid who qualified for singles. This was Baid's third year qualifying for state, having qualified her freshman and sophomore years as well. 
"This was my best year so far," Baid said. "I didn't start out the best but then as we had more practices and matches I got more comfortable with the atmosphere and started doing better with my matches." 
The road to state is not an easy one and the dedication to the team and commitment to her personal growth helped Baid get there. 
The girls' tennis team represented Metea well at the state competition. This could not have been done without the preparations put in during the season, and their reliance on one another and their fellow teammates. Throughout all of their success this season, the tennis team now has their minds set on how they can top this year. They are excited and hope to send even more players to state next season.
Leave a Comment
About the Writer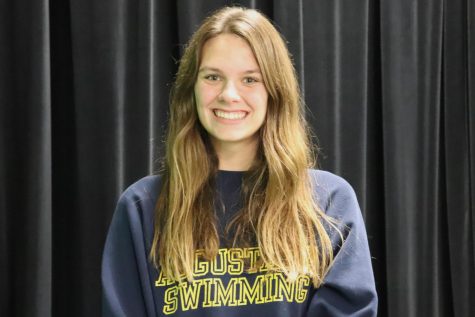 Elena Buscher, Sports Reporter
Elena Buscher is a senior and sports reporter. When she's not catching the play-by-play for the Metea Valley sports teams, you can find her performing...