'Figments' comically captivates Metea's invested audience
As the lights dimmed in the auditorium and the stage lit up, Metea actors filled the theater with humor and passion as they expressed themselves through their roles and characters. 
Through Metea's fall play "Figments," performers were able to combine comedy, friendship, love, and family- and create a standout performance. 
Every fall, Metea's theater department puts on a fall play in order to offer students the opportunity to put together a performance that demonstrates their interests, talents, and hard work. This year, director Matt Wolski chose Figments, a comedy that has elements from several famous comedians such as Woody Allen, Mel Brooks, and Larry David. The students worked hard for several months in order to prepare for their performance. 
"We would block the scenes and then go back through the show interpreting the scenes. And after, we started running acts and cleaning parts of the show," senior Truman Mitchell said. 
The show had many aspects that were thought out and intricate, from props and costumes to certain lines and expressions. The hard work of the cast paid off. All of these factors made the show a success since the audience was able to laugh along with the characters and have fun. 
"I enjoyed how there was such a comedy aspect to it because I feel like compared to the past this was definitely comedy based. And, I thought that it was really engaging and it kept you interested in it, so I thought that was really cool," junior Grace Nordahl said. 
The quality of the show also demonstrates how strong of a bond the cast has. Many of the actors were comfortable acting around each other and represented their connection with each other in many of their scenes. 
"I think the cast has clicked instantly and we were able to bond. And when you are able to bond as a cast, it creates a better show too, so it was really cool that I created and strengthened friendships," Mitchell said. 
For students still interested in attending the play, there are performances on Nov. 8 and Nov. 9 at 7 pm. Tickets can be purchased at the door. 
About the Contributor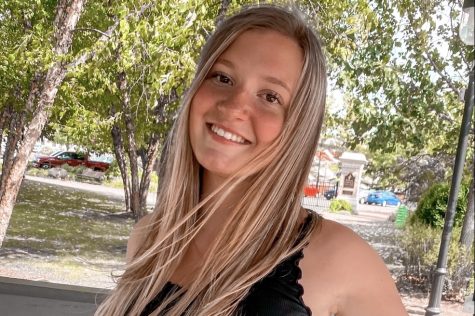 Alexandra Guckel,
Alexandra Guckel is a senior and is the Print Editor- in-Chief of the Stampede for her third year on staff. If she is not doing schoolwork, you can usually...