Chess team pawn off their plans for the season
Metea has numerous clubs, teams, and activities. One of the less popular but great strategic teams Metea has is the chess team. Metea's own chess team competes in state competitions and has done great this year. The team has started strong this year at 2-1, with a very close loss to Neuqua. Last year Metea's Chess team went 0-5 in the conference and still finished 21st out of 145 teams at state. The Mustangs handed Naperville North their first conference loss in the last 5 years. Naperville North has been a champion chess powerhouse over the last decade, winning the state championship in 2015, and placing consistently in the top 10 since. Metea Valley's very own chess team broke that win streak. 
"When you're on the team, you go around help each other figure out what moves are the best, and it helps with better communication," sophomore Ayush Jain said.
The team promotes unity and teamwork. The chess team goes to competition and compete for recognition of who is the best. When getting ready for chess competition, the team players and coaches help each other as a whole get stronger over time. In the club, they compete against one another to see who goes to the next level.  
"Making sure you practice a lot and make sure you've got enough sleep. That's very important," senior Abhishek Misra said. 
When getting ready for such an intense head to head match, teammates make sure to give more strategies and techniques that could be used during a match to win. The coaches practice with them all and they have a mini throw down in the club to see who will get sent off to the state.
 "After we play our games, we analyze them. So basically, there's a computer that shows the best possible moves and what you can do so, we analyze their games and look for any mistakes, and any things we can do better and we just do that over and over again until we get better," senior chess team captain Yash Telang said.
Metea's chess team is very good, especially considering the team beat Naperville North's five-time win streak. When they enter a competition feel anxious and nervous but those feelings quickly go away in quietness and intensity of the match. 
"It's one of a kind. When you walk in the playing hall it's like everybody is dead silent, everybody's just focused on their game. And it's really something, it is very intense," senior board member Ilyas Khaja said.
About the Contributor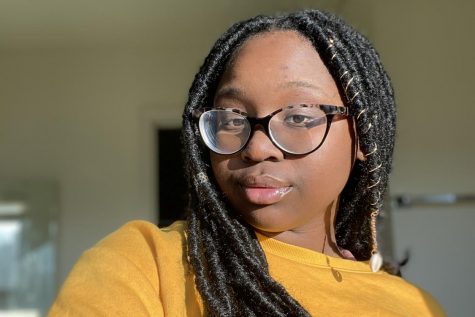 Jada Jones
Jada Jones is a senior and this is her second year joining The Stampede. She is the team's Diversity Editor. She enjoys reading and writing poetry. Her...