Boys' wrestling flickers a wake-up call at the Newbill Invite
Varsity head coach Matthew Long preaches attitude and effort to his team. The ability to recognize mistakes makes a team stronger. Coach Long did not hesitate to tell his team what they need to work on after the boys walked off the mat. 
This only made the Mustangs hungrier for the win but it was not enough at the end. The varsity team along with other teams attended the 32nd Annual Dvorak Invitational in Rockford on Dec. 21. After the Mustangs lost in the championship first round, they went into the round of consolations. They won one match by senior Aniel Vargas in the quarterfinal, allowing them to move to the semi-final round. In the next round, they put up a fight but lost unfortunately not making it to the finals the next day. 
"I'm working harder every day at practice. As a team, we are trying to push each other to be the best wrestlers we can be such as improving technique and becoming more aggressive," Vargas said.
Putting in one hundred percent effort into everything he does improves himself physically and mentally, according to Vargas. The individual sport is very tough when it comes to taking down your opponent in the six minutes given. It all comes down to who dares to take the first shot. Sophomore Kenny Siwicki had the closest match going past both overtimes and into the ultimate tiebreaker.  He came up short for the win. 
"My mindset is to wrestle," Siwicki said, "it doesn't matter who it is or what they look like."  
The mindset for many wrestlers is to go into their matches with a lion mentality of chasing the gazelle. In the consolation quarterfinal, the Mustangs took a tough loss as junior Leo Gonzalez was tied in the third period. After giving a tough fight an injury from his earlier match did not allow him to go any further losing by a pin. 
"I learned that I always need to stay confident in myself and my shots. As long as I keep my head in the game I'll be able to take people down and secure it up," Gonzalez said. 
The energy in the gym was tense for the Mustangs after knowing they would not be able to make it to the second day. They had only one thing on their minds, to work harder.  After being taken down by their opponents and overall losing eighteen matches they were set on working to fix their mistakes. 
"We didn't perform the way that I thought we're capable of. We left, not finishing matches, and not starting right. They should be able to bounce back, be able to continue to compete and work," Long said. 
Resilience is key in any loss, and expect the mustangs to come back stronger to compete. "I am looking forward to them turning the corner, competing hard against both Valleys, and having a good final tournament showing at Geneva. I want to see them work hard for those six minutes and battle with that person," Long said. 
When asked what the boys are looking forward to at their next match, they all had the same ambition, "duels against Waubonsie and Neuqua, I want to be able to know our team can place or at least beat out the Valleys," senior captain John Baker said. 
The boys are still halfway through the season and looking forward to the DuPage Valley Conference. Their upcoming match will be the Newbill Invite at Geneva High School this Saturday.
Leave a Comment
About the Contributor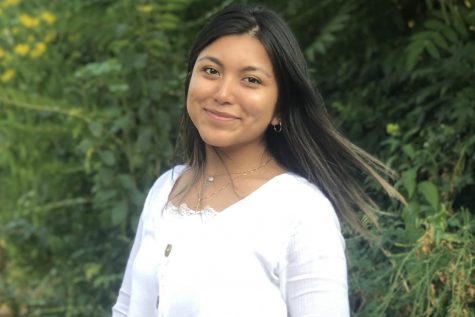 Jessica Velazquez
Jessica is a senior and this is her second year on staff. She is the news editor this year. When she is not in the newsroom, she is either hanging out...