Boys' Basketball breaks a sweat against Oswego East
The varsity basketball team lost 47-60 to Oswego East last night despite a valiant effort from the team. The boys were unable to take a lead, but managed to keep it close throughout the whole game. Senior guard Myles Leavy led the way with 17 points and made some big shots down the stretch to keep the boys in the game.
The Mustangs started the game ice cold, being down 5-21 in the first quarter. Throughout the entire first half, it seemed as if East just could not miss. Meanwhile, the Mustangs could not buy a point. In the second half, the boys were not able to get the lead down despite the clutch shooting from senior Ethan Tai and Myles Leavy. 
"I know when I'm hot, I know that I can knock it down when I get it going, I did not give up on my shot," Leavy said. 
Tai was able to provide a big spark off the bench, hitting two three pointers quickly to put the Mustangs within striking distance. His shooting played a big role in re-energizing a home crowd. He displayed his defensive effort by showing no fear of switching on to any of the East players. 
"I just come in and play my role, I fill in for whatever the team needs. It starts on defense, getting stops and just feeding off the crowd's energy," said Tai.
The dauntless fourth quarter effort truly displayed this teams resiliency and their drive to take their game up a notch. The defensive intensity was turned all the way up, and a change in the teams mentality was quickly noticed. 
Unfortunately, every time the team pulled within striking distance, they would go cold again and let East go on another scoring run. The team struggled to contain the Wolves defensively. Throughout the stretch, the Wolves would pounce on the opportunity to retake a big lead. East ended the game on an 11-6 scoring run, which was enough to put away the Mustangs for the night. 
"I just told them that we needed to keep doing what we are capable of. This is a really good team we played, and I knew we were going to have to do some things differently in order to stay in the game. We started doubling in the post and tried to make them beat us from the outside and the kids did a great job of executing that," head varsity coach Isaiah Davis said.
The Mustangs will hopes to bounce back in a big way at home against Central on Friday at 7:00 p.m.
About the Photographer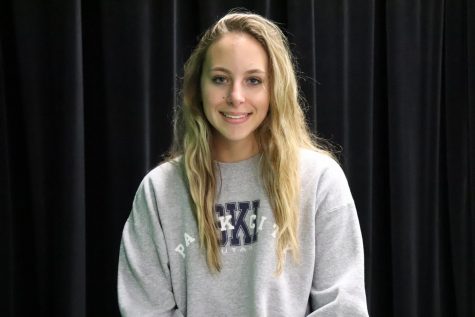 Jordan Dullnigg, Photographer
Jordan is a senior this year and this is her first year on staff as a photographer. If she isn't hanging out with her twin sister or taking photos, she's...