Senior Ashley Hallissey briefs on this year's golf season and the journey that got her there
So far, this season has been up to par. This year, the varsity team raised the bar with outstanding team wins and personal bests. Ashley's scores have improved from low 50s and high 40s to a constant streak in the mid-40s. Her teammates have continually lowered the scores into the 40s as well and even 30s. 
"Overall, as a team, this is the best we've ever been," senior Ashley Hallissey said.  
The girls' golf team has been knocking it out of the park with this season's wins. Every member of the team has bettered their scores over this past season, and everyone has improved their abilities.
"I think something that is interesting is seeing yourself improve, knowing that you're getting better- so you start to play smart golf rather than just hitting the ball randomly. You take it back a few steps like, 'What do I have to do to get this amount of strokes on this hole?'  Hallissey said. 
Although golf does require much skill and focus, girls on the team find themselves enjoying every bit of it along the way. 
"I think that you do not expect to have fun, but playing with other girls and getting to know your teammates is really fun," Hallissey said. 
Hallissey herself started playing competitively at the young age of seven. Her love for the sport was heavily influenced by her father, who plays golf with her often. She continued playing the sport into high school, and thoroughly enjoys it to this day.
 A big part of being on a golf team is the team aspect of the game.  During the season, they learn how to build each other up, form lasting friendships, and how to cooperate together. Together, they build a culture of loyalty and teamwork. This year has been especially hard to form these team relationships, since many team building activities have been canceled due to COVID-19. 
"If a person does bad, we try to pick up their score. If someone gets a 50, most of us girls try to get in the 40s," Hallissey said. 
Even though Hallissey acknowledges the team as a big part of her growth, there is an individual aspect to the sport as well.
"Individually, it's all in your head. It's a game, so you have to focus and get your head in the game or you just lose," Hallissey said. 
Although Hallissey's future in golf after high school is unclear, she knows that it will always be a prominent influence in her life, even if it is just a beloved hobby. As for the rest of the team, they are hoping to finish the season strong with their DuPage Valley Conference tournament next Tuesday.
Leave a Comment
About the Contributor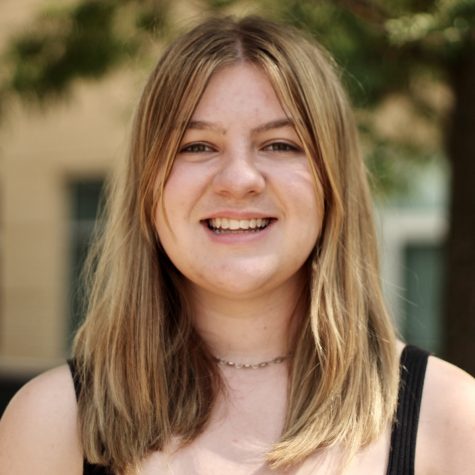 Grace Davidson
Grace is a junior and this is her second year on the Stampede. This year Grace is the sports editor, embracing the leadership role to report on all things...