Despite strong finish, Boys' Basketball falls to Waubonsie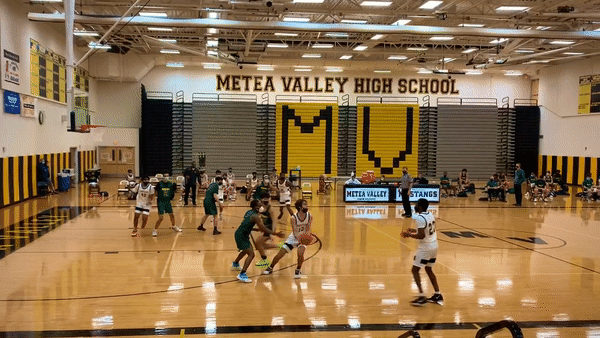 The Boys Basketball team lost a frustrating game to the Warriors on Saturday afternoon. 64-43 was the final score, as senior guard, Malik Bell led the way with 15 points.
Head coach Isaiah Davis accredited the team to staying resilient and persistent to keep them in the game.
"I thought that the kids battled; battle hard for 32 minutes. Waubonsie is a very good team and experienced and we are not; we lacked experience. So I thought the kids did a really good job of battling, not quitting," he said.
Davis still found ways to keep the team upbeat and positive throughout.
"That was our goal, and they did that. The team ended up finishing the game pretty strong, so proud of how they finished out and; you know, that is what we do. We did not want to quit."
In what has been a short season up to this point, the team has remained confident and resilient. The team has had multiple games in a short period, and although that may be strenuous on some, Davis makes sure the team has the right priorities.
"We do not get a whole lot of practice time this year. So we are just playing games; we are just trying to keep the kids upbeat, positive, and motivated to get better each day," he said.
The team has already shown improvements in the shortened season. Because of the limited opportunity, the team has worked even harder and remained motivated.
"They are just excited to have the opportunity to come out here and play and so that's really what's fueling them is realizing that you never know when things will be taken away," Davis added.
Towards the end of the game, the Mustangs went on a run. The team outscored the Warriors twelve to two in the final two-and-a-half minutes. Junior guard Darius Holman was part of that scoring, nailing a three-ball to keep the run moving in a favorable direction. The high point of the contest came out of nowhere.
Although the Mustangs came up just short, it was a valiant effort through and through.
"At the end of the game, we just tried to play hard and finish the game and contribute as much as we could in the minutes that we played," Holman said afterward.